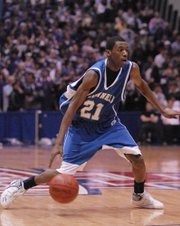 Georgetown recruit Jason Clark joined two of his future teammates during the 35th annual Capital Classic, held on Sunday evening at the University of Maryland's Comcast Center.
Clark, who started for the Capital All-Stars, scored a team-high 16 points, but it wasn't enough as the U.S. All Stars — led by most valuable player Olek Czyz — won decisively, 123-85.
The Bishop O'Connell senior went 5-of-13 from the field and had five rebounds in a team-high 25 minutes. On Friday, he also competed in the three-point and slum dunk competition. He, however, failed to impress the home crowd as David Diakite won the slam dunk contest and George Mason signee Andre Young drained 14 treys to take the three-point competition.
Clark, who finished his career with 2,162 points, 844 rebounds and 308 steals teamed with fellow Georgetown signee Chris Braswell (12 points), while the pair faced off against 6-foot-11 center Henry Sims (17 points).
"It was hell playing against him during the season, but playing with him is great because he makes it easier for a lot of us," said Syracuse signee Kristopher Joseph. "We've got a lot closer, and just knowing that I'm going to be playing against him for the next four years, it's a great experience. It's good that we met now opposed to later."
As for the second-most lopsided outcome in the game, which touts Magic Johnson, Michael Jordan and LeBron James amongst its alumni?
"It's fun, you don't put too much on how they play," said Capital All-Star (and O'Connell) head coach Joe Wootten.
The U.S. All-Star opposing head coach Dan Hurley, son of high school coaching legend Bob Hurley, agreed.
"I just had a great seat to watch some really, really good kids play," Hurley said.