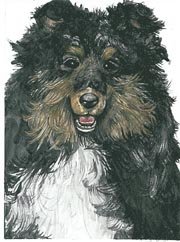 I am Daisy Mae Delray, the four-legged rovering reporter for the Alexandria Gazette Packet. My first column hit the streets the morning of April 3 and by mid-afternoon; I was already getting calls from readers. I thank you for reading my column.
If you are reading my articles for the first time, I want to repeat a few items from my first column to tell you what this effort is all about. I believe that the bond between humans and us your animals is a great gift to both human and pet companion. We are 100 percent dependent on you. You feed us, take care of our health needs, make certain that we get exercise and have welcomed us into your homes. We in return give you unconditional love and devotion. A pretty fair trade, I think. That is why I write this column.
You and me, my gentle readers, we are in a partnership here. I write and you give me ideas and tell me what is important to you so that I write about things that matter. Ok? So what is important to you this week?
One of my neighbors found a dog in their backyard. Jason, my neighbor, called Animal Control, which is at the Animal Welfare League and another neighbor, Alan Corman, who is with Animal Control, was the officer who responded. He took the dog, a gorgeous Staffordshire Bull Terrier who had no ID or tags, to the shelter. There the dog was scanned for a microchip. Bingo, chip was there, info was current and the owners were called. That guy slept in his own bed that night. Minimal stress and angst for dog and owners. Is your animal companion micro chipped? The cost is small, the reward, immeasurable.
I attended the 1st Annual Dog Health and Fitness Expo at Dogtopia in Alexandria last weekend and we listened to presentations on fitness, weight management, Reiki, canine massage, diet and doggy day care. Did you know that more than 40 percent of us dogs are obese? And guess what? It is your fault. We are not: big boned, fluffy, a couch potato or starving. You are in charge of the feeding. Proper weight management will give us, on the average, 23 more months on earth to love you. True confessions, I am a little pudgy myself so more walking and less food is in my future.
This is something that has been in the spotlight recently. Folks who are going into foreclosure or who are having other financial reversals, are older and who are losing their homes, or who are retiring to a retirement home are having a hard time keeping their pets. Our good Friend Lesa Miller, the Community Outreach Coordinator for the Animal Welfare League sent me some information from American Humane. They say to take your pets with you or find a safe placement for your pets. To read the article go www.americanhumane.org and search for Tips for Homeowners with Pets When Facing Home Foreclosure. Call the Animal Welfare League at 703.838.4774 or visit www.AlexandriaAnimals.org if you need assistance or know someone who does.
In my first column I wrote about the All Alexandria Reads 2008 events taking place in April and May. Please log onto www.alexandria.lib.va.us/main/marley.html for the complete schedule of events. I went to talk to Renee DiPilato who is the Branch Manager at the Duncan Library and the master mind behind the Marley and Me book selection. "We choose Marley and Me because the themes are universal." Renee told me, "family, love, relationships. There is also a picture book and a young adult book about Marley that are easy to read and that appeal to children and families alike." "For this 1st time, we really wanted something that was really successful. We can involve the families and Alexandria is such a dog town so we felt that we could get good participation." Said Renee. I found out that Renee has an adorable little Japanese Chin named Mickey and she is getting another one to be a pal for Mickey. We are like potato chips, you can't have just one.
I also need to tell you that the Del Ray Business Association which hosts First Thursdays in Del Ray has chosen Kids and Kanines for the theme of the First of First Thursdays, May the 1st on Mount Vernon Avenue. They have selected The Animal Welfare League of Alexandria as one of the charities to benefit. Do come on down from 6pm to 9pm. I will be there, with camera and I would love to meet you and your human companion. Also, in Del Ray where they are celebrating the Centennial of the Town of Potomac, a parade will wind its way down Commonwealth Avenue at 10am on the 3rd of May. I'll be there wearing a hat. Bring a hat and join the parade. At 11 at the Duncan Library, as a part of All Alexandria Reads you can see the Maryland Sled Dog Team in action. Woof! Woof!
What is going on in your neighborhood? Do you have a special someone; like my dear friend Rolfie the German Shepherd, who was in a dog wheel chair, who graced the Avenue with his spirit and great heart until he died a few months ago, that you want me to share with my readers? I may live in Del Ray but I cover all of Alexandria. This week I wrote mostly about dogs but I live with a cat and have a horse friend and a parrot friend so I want to write about them too.
Thanks for reading. Keep your tail high and your feet dry.