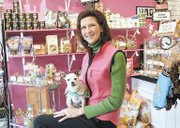 Kristina Robertson is a entrepreneur who has dedicated her professional life to protecting and pampering dogs since being rescued by her own pets.
Robertson founded her first business, Karing By Kristina ("KBK"), in 1991. As an early member of the National Association of Professional Pet Sitters (NAPPS), Karing By Kristina was one of the first pet sitting businesses in the metropolitan Washington, D.C., area. Robertson served on the Board of Directors for eight years. Robertson is certified by NAPPS as a Level 2 Professional Pet sitter. She is now on the member benefits committee to help other professional pet sitters build their companies.
Robertson and KBK are also affiliated with Pet Sitters International (PSI). KBK now has over 3,000 clients.
During the early 1990s, Robertson also served on the Prince Georges County, Md., Animal Commission, as a pet advocate, and provided services to the Prince Georges County Animal Shelter, All breed Pet Rescue and placed numerous animals that were abandoned through her pet sitting service.
Since moving to Alexandria and taking on Barkley Square Bakery, Robertson has become an active member of the Alexandria Chamber of Commerce, Alexandria City Visitors Association, and is a board member of the Del Ray Business Association where she is on the membership committee.
<b>Why did you choose this particular business? </b>
That is what happened to me: I had been an owner of a professional pet sitting company for 12 years. The business was great and growing leaps and bounds. I married and moved from Maryland to Virginia. The first week of my married life this opportunity presented itself to me on my doorstep. It made perfect sense to marry pet sitting to a doggie bakery.
<b>Why did you choose to work for yourself rather than as an employee for someone else?</b>
I am an independent thinker and I like to fly. I have always dreamed big and have believed that if you don't "do I," someone else will. Punching a clock isn't for me. I have to have something new and exciting daily, owning a business is that and more. I love to be the one that has helped change people's lives and give them the freedom to be away from their pet's stress free knowing that they are being so loved and cared for by my staff and myself.
<b>What have you learned from being in business? </b>
It is a privilege. Owning your on business opens and closes many doors. I have learned that if you are not balanced your world will fall in on you . and the dog.
<b>Share an anecdote of a challenging or humorous experience or biggest surprise learned from working your business. </b>
I believe that being selected to be a portrait for the Live Passionately Virginia Tourism Group has to be my biggest experience. I was just doing my job and loving what I did when all of a sudden this happened … wow
<b>What have been the advantages and/or disadvantages of operating a business in Alexandria? </b>
The advantage is being in Alexandria, walking the streets, seeing your customers and feeling like you have family. The disadvantages may be that our folks don't spend enough their money locally. We have to support the small businesses. That is what Alexandria is all about.
<b>Key staff: </b>
Michelle D'Ettorre, vice president of marketing; Grayson Robertson, chief of finances, and Karen Wilder, accountant extraordinaire.
<b>Description of services and/or products:</b>
Barkley Square Gourmet Dog Bakery & Boutique is a pet boutique specializing in delicious treats, gifts and furnishings for dogs (and cats) with a taste for quality. Founded in 2003, the Del Ray business was purchased by Kristina Robertson in 2004, with a mission to provide unique and high quality dog treats and pet accessories, along with reliable and friendly pet sitting services to the discriminating dog owner.
Karing by Kristina (KbK) is an established in-home professional pet care service catering to the specific needs of both owners and their pets. We are committed to providing the absolute best care and offering peace of mind to owners about their home and pets while they are away.
<b>Professional affiliations/associations:</b>
Alexandria Chamber of Commerce Members Benefits, Alexandria City Visitors Association (ACVA), Del Ray Business Association (DRBA), Old Town Business Development Association (OTBDA), National Association of Professional Pet Sitters (NAPPS), Pet Sitters International (PSI).