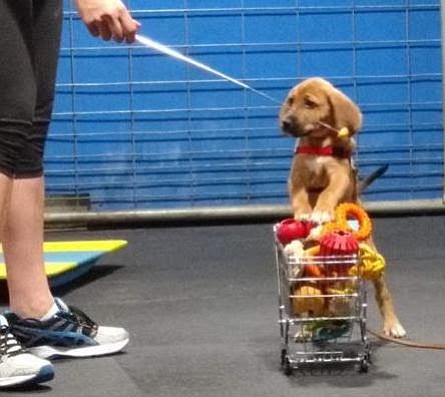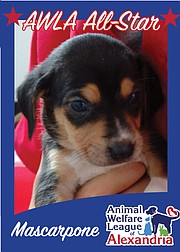 Asiago, Cheddar, Feta, Gorgonzola, Gouda, Havarti, Mascarpone, Mozzarella, Muenster, Provolone and Ricotta might sound like a stroll down a grocery aisle, but it was actually a panoply of puppies competing in the "Great Puppy Games" earlier this summer at WOOFS! Dog Training Center.
The puppies are the 11 offspring of a hound mix named Brie, sent by the Animal Welfare League of Alexandria (AWLA) to WOOFS! for some special care in her last weeks of pregnancy. The birth of not one, not two, but 11 puppies provided an opportunity for WOOFS! to hone its training skills for young dogs, a special emphasis of the center. "One of my personal interests is getting puppies started off on the right foot," said Dr. Laura Sharkey, founder of WOOFS! "We focus on socializing them in the 6- to 10-week-old period, meeting other dogs and people."
Along with the usual work of training and boarding dogs for paying clients, WOOFS! is an Animal Guardian of the AWLA, donating thousands of hours each year to foster dogs who need special attention and care. "We might not have been able to take in Brie if WOOFS! hadn't agreed to foster her," said Echo Keif, AWLA Community Outreach and Adoptions Coordinator. But after their birth at WOOFS! — and the special training for the Puppy Games — the 11 dogs journeyed to the shelter for adoption. All have now gone to new homes.
Some dog owners don't realize that training can begin for puppies as young as three weeks, Sharkey said. WOOFS! starts its nursery school with basics like paper training, coming when called and paying attention to what humans are saying to them. Training sessions for puppies are brief, she said, because of their short attention spans. Besides, she pointed out, their tiny bellies can only hold so many treats.
Training should be fun for both puppies and adult dogs, Sharkey said. "If any angst or frustration appears, something is wrong with the training and it needs to be evaluated. The dogs should think it's all a game."
It certainly was fun and games for Cheeses Eleven. Showing off such skills as following their trainer, coping with distracting objects and agility, Asiago emerged as the Big Cheese with assistance from trainer Jane Saunders; siblings Mozzarella and Gorgonzola also emerged as leaders of the pack. Sharkey ushered puppy Mascarpone through the course, and senior trainer Erica Pytlovany presided over the trainers and their canine companions in front of an audience of friends, family and AWLA followers.
Dr. Sharkey will speak about raising dogs — and puppies — at a special AWLA Speaker Series event on Thursday, Sept. 27, at 7 p.m. at the AWLA, 4101 Eisenhower Ave. More information can be found at AlexandriaAnimals.org/RaisingRover.
The Animal Welfare League of Alexandria, which operates the Vola Lawson Animal Shelter on contract with the City of Alexandria, is an independent, local, 501(c)(3) non-profit organization. The AWLA is committed to ending animal homelessness, promoting animal welfare, and serving as an educational resource for the City of Alexandria community. More information is at AlexandriaAnimals.org.