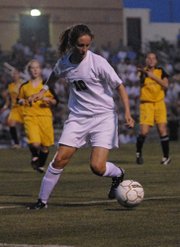 Centreville girls soccer players Erika Pinto and Katie Cramp entered this season knowing only success when putting on a Wildcat uniform. The Wildcats have won a Concorde District championship in each year that the two seniors have been enrolled – winning the title from 2004 to 2007. The two celebrated Centreville's first girls soccer regional title in 2006 and another regional title last year. Both were key members of the team that advanced to the state final four the past two years.
They also now find themselves on a Centreville squad composed of 12 players that were in junior high when the Wildcats won their first region title just two years ago. Six were in junior high last year.
"This is more of a teaching year," said Cramp. "It was better for me to learn my character and see how I dealt with the situation at hand."
The situation is this – the Wildcats graduated Morgan Benz (first-team AAA All-state), Cate Tisinger (second-team all-Concorde District) and Brittany Richmond (second-team all-Concorde District) from last year's squad.
In February, second-team All-State sophomore Jenna Richmond, who led the team as a freshman with 12 goals and 10 assists, went down with a season-ending anterior cruciate ligament tear. Seniors Jordan Grant (second-team AAA All-State) and Laura Yu (second-team all-Concorde District) decided not to return to the squad.
Pinto and Cramp found themselves the only seniors returning to the squad.
"At the beginning of the year, we thought, 'This is going to be a long year,'" said Pinto. "It is a lot different than what I am used to."
<b>HEAD COACH WARREN WILLIAMS</b> restocked the Wildcats with a majority of freshman and sophomores and went back to the basics during practice – something that was frustrating to his two seniors.
"They had a hard time understanding why we were doing what we were doing," said Williams. "Reeling the team back was difficult for them to understand."
Added Cramp: "We had to teach these girls from the start."
The new team also brought new roles. Williams moved Pinto back to sweeper and Cramp became the Wildcats' leader in the midfield.
Then came something that both were definitely not used to – losing games.
The Wildcats dropped their first four games of the year and were outscored 11-3 to start the season. All three goals in the first four games were scored by Cramp.
"We started getting a little frustrated during some of the practices because we were sick of losing compared to last year," said Pinto. "We did get a little frustrated and sometimes me and Katie do step up and say something to the girls to help them get motivated and do better, but there has been a lot of improvements since that first day of practice and tryouts."
<b>THOSE IMPROVEMENTS</b> have already started to get results, as the Wildcats have won their last two games, including a 1-0 win over Lee on April 14 – with the game-winning goal scored by freshman Katie O'Donnell.
"I feel like I have to live up to the expectations of how the past teams have played," said O'Donnell. "The team has grown a lot together. We keep getting better every game."
Added Williams: "They might not be the team that wins the state title, but they are going to be the team that is the link to the past to what we are going to do in the future, which is not easy, but they are doing a great job doing it."