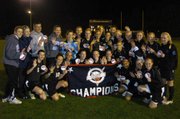 <b>Coach:</b> Warren Williams (110-38-8)
<b>2007 Record:</b> 17-3-2
<b>Key Losses:</b> F Cate Tisinger, MF Morgan Benz, D Brittany Richmond, D Jordan Grant, F Jenna Richmond, MF/D Laura Yu
<b>Key Players:</b> M Katie Cramp, SR; F Erika Pinto, SR; M Isabel Chang, FR
<b>Quotable:</b> "We have grown by leaps and bounds. It is just a matter of keeping them all together until we start getting results that we want. I don't think that you change your goals. Your goals should always be to win the district. That is why you play the regular season." – head coach Warren Williams
<b>Outlook:</b> The Centreville girls soccer team entered the offseason fresh off a season that saw the Wildcats win their fourth-consecutive Concorde District title and second-consecutive Northern Region crown. Head coach Warren Williams was expecting to lose a wealth of seniors to graduation.
He surely didn't expect what happened last February.
Seniors Jordan Grant (second-team AAA All-State) and Laura Yu (second-team all-Concorde District) decided not to return to the squad. Then sophomore Jenna Richmond (second-team AAA All-State), who led the team last year with 12 goals and 10 assists as a freshman went down with a season-ending anterior cruciate ligament tear. Add the graduation of Morgan Benz (first-team AAA All-state), Cate Tisinger (second-team all-Concorde District) and Brittany Richmond (second-team all-Concorde District) and Williams was left with a team that hardly resembled the one he had such success with just a year ago.
"It has been an interesting start to the season," he said with a chuckle. "It is easier for me to deal with than it is for the girls to deal with. The ones that have been around have expectations."
The Wildcats are left with two seniors, midfielder Katie Cramp (5 goals) and forward Erika Pinto (6 goals).
According to Williams, Cramp and Pinto have responded with an impressive amount of resolve to the sudden loss of their teammates.
"They are two kids that are seniors and have been to two regional championships and won three district titles. The way they are leading the group right now is just phenomenal," he said. "I take my hat off to them."
The Wildcats have dropped their first two games of the year – 2-0 to South County and 2-1 to West Springfield. Despite the results, Williams has seen vast improvement already in his team.
"I am thrilled with the progress that we have made in a couple of weeks," he said. "You just hope that they can hang in there until progress means good results."