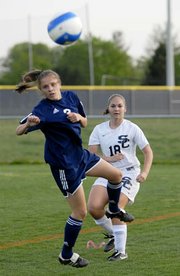 Last year, the South County girls soccer team saw its hopes of a Patriot District title end with a loss to West Springfield. The Spartans scored off of a penalty shot in the 74th minute to secure a 1-0 win – completing a two-game sweep of the Stallions. Earlier in the regular season, the Spartans dispatched South County, 4-1.
So as the Stallions prepare to face the Spartans on April 24, it's safe to assume that South County will be looking for revenge. Getting back at their district foes, however, is not what motivates the Stallions.
"I don't really look for revenge," said sophomore Alex Reed, who leads the Stallions with eight goals this season. "I just remember the games and remember the way that we played and remember what I did well in that game and I improve on that. I remember what I didn't do well and I make that better. That is what I am focused on."
Heading into its game against the Spartans, South County sports an undefeated record at 7-0-1. The blemish on their record is a 1-1 tie with Chantilly on April 1. South County has outscored opponents 24-4 through eight games – boasting four defensive shutouts and five games with at least three goals.
"I have seen a lot of teamwork. A lot of enthusiasm," said head coach Maureen Saale. "I have seen determination."
Despite the success, Saale still fields a very young squad, starting as many freshmen as seniors.
"Maturity-wise, they have come so far on the field," said Saale of her young squad.
Freshmen Kelley Johnson and Liz Hodges have combined for five goals this year, 21 percent of the team's offensive output.
<b>WEST SPRINGFIELD</b>, however, will be a major mental hurdle for the Stallions this year. The Spartans starting the year with a six-game winning streak, but have since dropped two-of-three games to Lake Braddock and Woodson.
"We are there and I think, like any other high-school level athlete, they have to have the mentality that they can get out there and beat the team," said Saale. "They are prepared, skill-wise, they just have to go out there and relax and have some fun."
The Stallions' April 17 win over West Potomac has gone a long way in preparing the team for the Spartans. Even though Saale's squad won, 2-0, the game was much closer than the Stallions anticipated.
"When we played West Potomac, they had nothing to lose. They just came out and were there for a fight," said Saale. "Hopefully, that was what they needed to kind of get ready for West Springfield. I think that they realized that they can't take anybody for granted. They have to go out and play each game like it was the best team. This should be a lesson learned. We have to go out and give 110 percent."