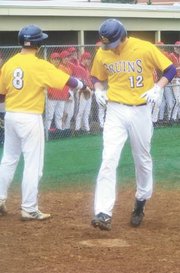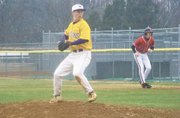 Driss Bernoussi wasn't a spectator on last year's Lake Braddock baseball team, which won 24 games, at one point had a 20-game winning streak and advanced to the Virginia AAA state semifinals. He was a left-handed pitcher on a team rife with talented arms.
But Bernoussi watched players like Shane Halley (Virginia) and Shannon Mark (Christopher Newport) come through in the clutch, helping the Bruins hoist Patriot District and Northern Region trophies. He enjoyed the ride but wanted to contribute more.
So Bernoussi hit. A lot.
During the off-season, when most players simply hit the snooze button or, even they do make it to a batting cage somewhere, take half-hearted swings, Bernoussi was hacking away, insistent on earning a starting spot.
"My first few years in the program, I was seen just as a pitcher, but I thought I could add another stick to the lineup," the 6-foot-4 Bernoussi said. "I saw what we could do last year, and I just wanted to be here, to be the man, to be on the field and to help the team out."
<b>HIS EXTRA</b> work has paid off. Bernoussi turned on an inside pitch during a scrimmage against Madison last Saturday, blasting a home run over the right-center field wall. Though he doesn't have a natural position yet, coach Jody Rutherford doesn't really care.
"As long as he's swinging the bat well, we'll find a place for him," said Rutherford, whose team won its first Patriot District title since 2004 by topping West Springfield and outlasted Chantilly, 9-6, to claim its sixth Northern Region crown.
"He's kind of growing into his body," Rutherford said. "He's more physically mature, and the culmination of his hard work has gotten him ready."
With several key losses from last year's team, Lake Braddock is hoping there's more like Bernoussi. In addition to Halley and Mark -- the top two hitters on last year's squad -- Lake Braddock lost its starting catcher, first baseman, second baseman and right fielder.
Rutherford's returnees include third baseman Kenny Towns, shortstop Ryan Lindemuth and ace pitcher Brian Derner, a lefty who's recovering from a broken collarbone. He's expected to make his first start around the team's spring trip to Charleston, S.C., which runs from April 6-10.
Lindemuth, a defensive wiz at shortstop who can also hit for average, will provide Lake Braddock with some stability up the middle. He's also an accomplished relief pitcher from last year's success and should parlay that into more innings this spring.
"Me and Driss [pronounced "DREE-se"] have been here for the past three years, and we've never really been the ones that everyone's been looking to," Lindemuth said. "But now that we're the older guys in the program, everyone is looking to us and we have to step up big and get them to play at a higher level as well."
<b>ROBINSON,</b> behind George Mason-signee Brandon Kuter, a 6-foot-6 right-handed pitcher and outfielder, hopes to improve upon last year's 15-9 season in which the Rams went 7-5 against Concorde District opponents and lost to West Springfield in the Northern Region quarterfinals.
With the losses of shortstop Jimmy Kalina, first baseman Greg Jernegan and pitcher Eric Rabung, the Rams and second-year head coach J.D. Detwiler will turn to senior pitcher/shortstop Michael Del Buono, senior catcher Chris McCloud and senior second baseman Mike Kenah.
"We're in a situation like we were last year," Detwiler said. "We're looking at a bunch of guys who are either underclassmen or inexperienced.
"But the guys who are seniors, even though there aren't a lot of them, they've been on varsity for three years and they've done a great job of being leaders."
Kuter, who went 3-3 with a 3.11 ERA and 28 strikeouts on the mound last season, should see his innings increase significantly, as he'll team with junior Austin Freer atop the Rams' rotation.