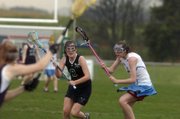 The South County girls lacrosse team secured the second seed in the Patriot District tournament, with a 13-12 overtime win over Lake Braddock. The victory over the Bruins was a first in the history of the Stallions' program.
The Stallions jumped out on the Bruins quickly, with senior attack Jenna Brock scoring four goals within 10 minutes. Goals by sophomore midfielder Megan Wears, sophomore attack Rachel Covas, junior midfielder Caris Moses and freshman midfielder Erica Binzer bolstered the Stallions' lead heading into the half.
The Bruins came roaring back in the second half, tying the score five different times and sending the game into overtime.
With 38 seconds remaining, Wears was awarded a penalty shot after she was fouled streaking to the net. Wears found the back of the net, giving the Stallions the 13-12 victory.
Senior goalkeeper Ashland Husar finished the game with 16 saves.
The Stallions (12-2, 7-1 Patriot) will host their first round Patriot District game on Thursday, May 1, at 5 p.m.