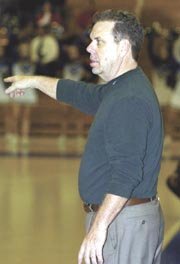 One of Oakton's greatest strengths early on in the high-school girls basketball season has been its ability to put the ball in the basket with great frequency. The unbeaten Cougars (6-0), through their first six games, have averaged 75 points per contest thus far.
"We're doing OK right now," Fred Priester, veteran Oakton head coach, said. "[But] it's early in the season."
Oakton had a typically big scoring game last Friday night when it defeated visiting Lake Braddock, 79-33, in a non-district game. Freshmen guard Caroline Coyer scored 18 points to lead all players. Her twin sister, backcourt Katherine Coyer, added 13 points while both Erin McGartland, a senior forward and team co-captain (13 points) and Sasha Borojeni (11), a senior guard and co-captain, were also in double figures. Senior forward Brianna Johnson added nine points in the victory over the winless Bruins (0-5).
Oakton is coming off a 2007-08 season in which it finished 22-3 overall while winning its fourth consecutive Concorde District title. But the Cougars' season ended on a down note when they were beaten by Annandale in a first-round game of the 16-team Northern Region tournament. Oakton, a perennial powerhouse over the years under Priester, has won 11 district titles over the past 13 years. Its last region crown came in 2005.
Priester said this year's Cougars are playing at a faster pace than last year's squad. Oakton, like last year, is not an overwhelmingly big team physically.
"We're playing a different style of play this season than last year, a more up-style tempo," said the coach. "We're getting solid contributions from everyone. We're still not very big, but we're a lot faster."
<b>OAKTON HAS</b> three returning starters back in the lineup in McGartland, Johnson and sophomore guard Zora Stephenson.
Johnson, who is 5 foot 9 inches, is a frontcourt player capable of mixing it up inside with opposing centers. She has a knack of scoring key baskets in big games and is quite an athletic player.
"She can play post [position] and she has guard-like skills," Priester said. "She takes the ball to the basket pretty well."
In November, Johnson signed a letter of intent to play the sport collegiately at Division 2 University of Indiana in Pennsylvania.
McGartland, 5 feet 8 inches, also has a versatile all-around game. Last year, she averaged 13 points and eight rebounds a game and earned First Team All-District and Honorable Mention All-Region honors.
"She's a do-everything player," Priester said. "I thought she was the best on our team last year. She can shoot the three and has solid post-up skills. She's very intelligent and knows every position on the floor."
Stephenson, also a First Round All-District selection last year, gives Oakton a terrific outside shooter. A year ago as a ninth-grader, the sharpshooter nailed 58 three-pointers. This season, she has 12 treys through the first six games. But Stephenson's scoring production is not limited to long-range bombs.
"She has added a mid-range game," Priester said of Stephenson's improved game this winter. "She can score on drives and pull-ups."
Another key player is Borojeni, the co-captain and shooting guard who possesses speed, an outside shooting touch and excellent defensive skills.
<b>THE COUGARS</b> have a new look with ninth-grade siblings Caroline and Katherine Coyer in the backcourt.
Caroline Coyer, Oakton's starting point guard, scored 17 points, including three 3-pointers, in Oakton's 69-52 non-region road win at Potomac High (Dumfries) Dec. 10. Katherine Coyer added nine points in that win.
"Caroline can be a prolific scorer and she has had some prolific games," Priester, who also loves the perimeter players' ability to pass the ball, said.
Caroline Coyer, in her team's 75-30 home win over non-district opponent West Potomac Dec. 9, distributed 17 assists while bringing down seven rebounds.
"She has versatility in her game to put us in the best position to win," Priester said. "She's a real good defender."
Katherine Coyer has been serving as Oakton's first player off the bench.
"She's a lockdown defender and can score, too," Priester said.
In this week's action, Oakton was scheduled to play at Westfield Tuesday and will be home against Robinson this Friday night. Both are district contests.
Over the Christmas holidays, Oakton will host the Cassel's Sports Holiday Tournament Dec. 26, 27 and 29. The eight-team field will consist of a team from Bethlehem, Pa., as well as local outfits Freedom High (Woodbridge), St. Stephen's & St. Agnes School of Alexandria, Stone Ridge (Md.), Wakefield, West Potomac, Potomac Falls of Sterling and the host Cougars.