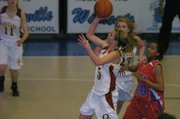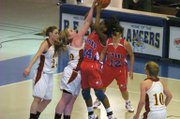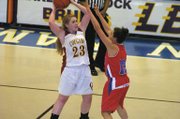 An 11-point deficit in the first quarter of its Northern Region championship game against T.C. Williams on Tuesday night probably did not seem so big to the Oakton High girls' basketball team.
Afterall, the Cougars, four days earlier, had overcome an early 21-2 score before defeating M ount Vernon, a victory that boosted Oakton into the finals and automatically qualified them for the upcoming state AAA tournament. So, trailing by 11 to T.C., while it might have been a concern, was hardly reason to panic. Afterall, the Cougars had proven in the win over the talented Mount Vernon team that they could play from behind.
And sure enough, Oakton came roaring back to defeat T.C., 74-66, in the contest played at Robinson High School. The region title game win was the Cougars' first since 2005 and put the final exclamation point on a region season which saw the Cougars go a perfect 28-0.
"It's not something a lot of other teams have accomplished," said Oakton freshmen guard and tournament MVP Caroline Coyer, of going undefeated through the region finals game. "It feels good to say there's not a region team that has beaten us."
Now, it is on to the eight-team state tournament for Oakton, which is scheduled to play the Central Region runner-up in a quarterfinals round game on Saturday night at Robinson. Tip-off is scheduled for 6:15.
Coyer scored a game -high 21 points in the region finals win over the Titans, earning her the tourney MVP honors. Other Cougars who were a part of the seven-member all-tournament team were seniors Erin McGartland (16 points, 9 rebounds in the finals) and Brianna Johnson (13 points, 7 boards). For the Titans, seniors Tierra Ruffin-Pratt, the University of North Carolina-bound guard who is considered the top player in the region, and Khalia Boston (16 points, 12 rebounds) both made all-tourney.
Oakton trailed T.C. late in the first quarter, 18-7, before clawing back into the game by halftime, where it trailed 31-29. The Cougars opened up a 49-40 lead late in the third quarter before T.C. scored the stanza's final eight points to draw within 49-48.
In the final quarter, the Titans took a 52-51 lead on a basket in the lane by senior point guard Monica Fikes (12 points) with six minutes, 36 seconds left to play. But Oakton then put together a stretch of play that led to victory, scoring the game's next nine points to surge ahead 60-52 with 3:34 remaining. The 9-0 scoring run was capped by a three-pointer shot from the right wing by sophomore shooting guard/forward Zora Stephenson (11 points). Later, the Titans' lead got as high as 10 points at 67-57 on a pair of free throws by Coyer with 1:14 left. T.C. never got closer than s ix points after that.
Oakton hardly blinked after falling behind by 11 in the first quarter.
"Having been down by 19 points before against Mount Vernon, I think everyone believed we could get out of it," said McGartland, of overcoming the early deficit against T.C.
Stephenson said Oakton's mindset when it trailed early was to just keep battling.
"Our mental toughness is unbelievable," said Stephenson. "We were down by 19 points to Mount Vernon. When we're down, everyone just keeps going, going, going. We wanted this [title game] real bad. We've worked hard."
Stephenson said the Oakton players have not talked about their unbeaten record. Instead, it has been kind of a silent code of determination to win each and every game they play.
"We don't want to lose," said Stephenson. "Our heart is just so huge. We won the [Concorde] District and [now the] region title, and we wanted to get to states. Every game, in our mind, we're 0-0 [record wise]."
<b>T.C. WILLIAMS</b> got off to such a fast start against Oakton thanks in large part to the play of Ruffin-Pratt, the six-foot, all-everything and one of the region's all-time top players. She made four of her five shots in the opening quarter, including a pair of three-pointers, and finished the eight minute stanza with 10 points to help the Titans build an 18-9 lead going into the second quarter.
But Ruffin-Pratt would not score again. A few minutes into the second quarter, she injured her shoulder and never returned. It was a re-curing injury for the Titan star, who has been injury-prone throughout her high school career. So, instead of helping her T.C. team win a region crown, she was relegated to sitting on the bench and cheering on her teammates the remainder of the game.
The Titans put together a good fight without her, but in the end could not defeat a fundamentally sound Oakton team that played well in all areas of the game following the tough opening quarter.
"Obviously, it was a huge loss for them to lose Tierra in the first half," said Oakton coach Fred Priester. "Tierra's such a good player. It would be poetic justice for her to go out a [region title] winner.
"You'd rather beat people when they're at their best," said Priester, who wished Ruffin-Pratt had been able to play the entire game. "She's such a great kid. Now, three years running, she's been hurt in the tournament."
The Oakton players just assumed Ruffin-Pratt would return to the game.
"At first everyone was like, `Yea, she's coming back in,'" said McGartland.
"It was one of their best players out of the game and it was our time," said Coyer, when it was understood Ruffin-Pratt was not likely to return. "We needed to step it up."
With Ruffin-Pratt out of the game, Priester did not have to concern himself with doubling up on Ruffin-Pratt defensively.
"We felt we could handle their other people one-on-one,D said the coach. "I thought T.C. played their hearts out."
<b>ONE OF THE KEY</b> factors to Oakton's win was its success at the foul line. The Cougars took 36 free throws in the game, 30 of those attempts coming in the second half. For the night, they were 28-of-36 from the stripe. T.C., meanwhile, was nine-of-15 from the line.
Twelve of Coyer's game-high 21 points came at the line and 10 of those free throws made came in the final three minutes as Oakton was putting the game away. McGartland, meanwhile, converted 12 foul shots, 10 in the second half.
"Our past few games our free throws have been so key," said Coyer. "We've been hitting them. It's been great."
Strangely enough, Oakton does not practice its foul shooting, at least not in the typical sense. Instead, Priester has his players go through `form shooting,' in which the players go through the free throw motion with a ball. They practice motion, arch and release, with the ball just going a few feet. They are not actually at the foul line when they go through this pract ice drill.
"We've been a good free throw shooting team. We have a plan on free throws – we never practice," said Priester, with a smile. "We practice form shooting. [Against T.C.], we had our best foul shooters on the line with Erin and Caroline. We hit our free throws."
Oakton had four players finish in double figures scoring on the night, while Katherine Coyer, twin sister of Caroline, finished with nine. Stephenson gave her team a big lift by knocking down three, 3-pointers in the game. Oakton had four treys as a team, compared to six for T.C.
One of Stephenson's treys started a 9-0 Oakton run to begin the second quarter.
"My shots are on and off," said Stephenson, of her outside shooting. "I never know when it's going to be on. I just have to keep shooting. There are other things you can do [when you're shooting is off] like play defense and rebound."
For Oakton's five seniors, it was their first-ever region title.
"It feels awesome," said McGartland, who was a sophomore when the Cougars lost to Edison in the finals two years ago. "I've been on the other side."
Priester never expected his team to be 28-0 going into states, but at the same time he is not totally surprised at his team's success.
"I knew we had enough weapons where people would be hard pressed to cover all our players," he said.