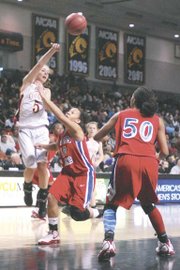 This year's Oakton High girls' basketball team, with returning starting players Caroline Coyer and Zora Stephenson back from last year's Northern Region championship and state AAA runner-up team, has been every bit as good as anyone could have expected for a program that lost its other three starters to graduation.
Oakton, 30-1 last year, won its first 12 games this season. Finally, last Friday night, the Cougars fell into the loss column, 46-42, in a Concorde District home setback to Robinson. It was Oakton's first regular season loss since falling to district opponent Westfield two seasons ago.
Earlier last week, Oakton defeated Chantilly, 49-41, in a district road win on Tuesday, Jan. 12. In both the Chantilly and Robinson games, Oakton's shooting touch was off. Prior to those games, the Cougars had been averaging in the high 60s range per game.
"The last two games we haven't shot the ball well," said Oakton coach Fred Priester. "We hit a bad spell shooting wise. We've stayed consistent on defense."
A year ago, Oakton had one of the area's top frontcourt players in gritty, 5-foot-8 inch Erin McGartland, who was the heart and soul of a dominating Oakton squad that could hurt you offensively both with inside and outside scoring. Another player who could mix it up inside was Brianna Johnson. Both former Oakton players earned All-Region Tournament honors last year.
This season, Oakton's scoring has come mostly from its seasoned perimeter players – Stephenson, a shooting guard who is averaging 16 points per game; and twin sisters Caroline (point guard) and Katherine Coyer (off guard), who are averaging 15 and 10 points, respectively.
Stephenson, one of the state's best three-point shooters last year as a sophomore, is continuing to shoot well from long range this season with 41 treys to her credit (just over three made a game). Caroline Coyer, meanwhile, has converted 24 three-point shots. As a team, the Cougars have made 85, about 6.5 three point baskets a game.
Oakton is a physically small team but the Cougars make up for their lack of size with all-out hustle on both ends of the court.
"Even though we're small, we get to a lot of loose balls and we hit the boards," said Priester.
<b>OAKTON</b>, in the loss to the Rams, led 11-4 after one quarter but scored just six second quarter points and found itself in a 17-17 tie at the break. Robinson, who got a game-high 20 points from Samantha Partonen, led 32-30 after three quarters. The Rams outscored Oakton by two points in the final quarter and came away with the hard-fought win. With about 30 seconds left, a three-point attempt by Caroline Coyer, with Oakton trailing by three, rimmed out.
Oakton's top scorers in the loss were Coyer (15 points), junior guard Danielle Davis (10) and Stephenson (7).
"Hey, I'm disappointed we lost but I didn't holler at them," said Priester. "Robinson hit some shots and we didn't shoot that well. I told them we just have to play better, that's all. We'll go back and practice. It's basketball, its sports."
Playing Oakton is the biggest game of the season for many teams because of the Cougars' vast success last year and prior.
"Every game we play is tough because we have a target on our back," said the coach. "We have to know teams are going to play their best games against us."
Katherine Coyer, the 5-10 off guard, is one of the district's top defensive players. She also hits the backboards hard and comes up with numerous offensive rebounds. An 83 percent free throw shooter Coyer has converted 10 three-point shots from the field this season. Katherine, an unselfish player, often looks to pass the ball first and shoot only if the opportunity is there.
"She's real good on defense," said Priester. "We want to get her to shoot [more] and to be offensive minded."
Oakton, in action this week, was scheduled to meet visiting district opponent Centreville on Tuesday, Jan. 19. This Friday night the Cougars will play at district foe Westfield. The Bulldogs are 12-2 overall and 4-0 in the district.