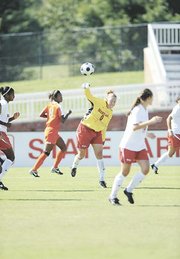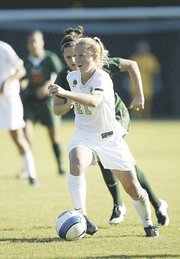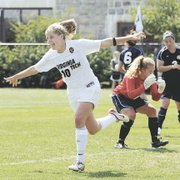 Their alma maters sit less than five miles apart down Stringfellow Road, and they grew up playing with and against each other at the club level. So Mary Casey, Amy Smerdzinski and Emily Jukich — three Division I-A women's soccer players — should all be fairly close friends, right?
Sure, just not before a game. Only after it. That's how the trio's current situation has come about with three intense and talented soccer players all starring in the same high-profile conference.
Casey, a junior goalkeeper at Maryland, graduated from Chantilly in 2006, which is one year after Smerdzinski, who recently wrapped up her career as a midfielder at Wake Forest, graduated. Jukich, a junior forward at Virginia Tech, graduated from Centreville in 2006.
"When we're playing, we don't really talk that much because we know during a game that it's all about the game," said Jukich, who notched 15 goals and one assist for the Hokies (10-9-4) this season. "It's all about competing."
Casey, Smerdzinski and Jukich shared two meetings apiece this season, with Smerdzinski's Demon Deacons posting two wins and Casey's Terrapins suffering a pair of losses. Jukich split the series as her Hokies went 1-1.
<b>AFTER THE SEASON,</b> all three earned All-Atlantic Coast Conference honors. Casey, who allowed only 11 goals and had a .90 goals against average for the Terrapins (7-10-1), earned first team honors, while Smerdzinski (six goals, two assists) and Jukich were second team picks.
"I think the ACC is just a great conference because every team is a quality team and you never really play a bad team," said Smerdzinski, who team finished 13-8 this year. "Having any success in such a competitive conference is rewarding."
So how did this success come about? For all three, the answer is simple: club soccer. It's hardly a secret that Northern Virginia possesses a wealth of quality club soccer opportunities, as Casey, Smerdzinski and Jukich were perfect beneficiaries of that.
Casey suited up for the PWSI Cardinals and was eventually joined by Jukich. Smerdzinski, meanwhile, played for Chantilly Milan until her junior year in high school at Chantilly and then switched to RFC Milan, where Jukich joined her before transferring to PWSI.
"Club teams around here always seem to have alot of quality players, but they're diverse enough to make it really competitive,"
Smerdzinski said. "You don't have a mass team of great players, so you kind of have to compete together, which really showcases the area and allows players to get showcased to Division I schools."
<b>BUT CLUB SOCCER</b> alone didn't lead these three to the ACC; their high school accomplishments are staggering. Casey was a four-time All-District selection and was an All-State pick in 2003 and 2004. Jukich scored a total of 72 goals and 37 assists for the Wildcats and was an All-State pick from 2004-06. Smerdzinski scored a staggering 90 goals and 50 assists at Chantilly.
Despite all the success, the trio remains cordial and regularly exchanges pleasantries after the game. It would just be out of character to do it at any other time.
"It's pretty cool to have friends from the area that are from other ACC schools," Jukich said. "It's fun to see each other when we play against each other, and it's funny how things work out.
"I know I'm a very competitive person, and I know that Amy and Mary are too. The environments that we've played soccer against each other in were always very competitive with each other and with the teams, so I think that definitely led us to the ACC."