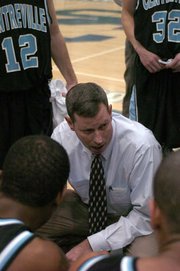 Ok, we need to find a phrase to describe the month of February for high school basketball enthusiasts. February Madness does not quite work. As a coach, I am always preaching to my players the importance of playing our best basketball in the month of February.
Everything plays out in late February – from the late season jockeying for district seeding to the anxiety and drama of first round district tournament games, to the analysis of the Northern Region tournament bracket.
This is the time of year that basketball coaches, players, and fans live for. Everyone is still alive in February, trying to be one of the select teams that can advance to March. The destinations that teams are aiming for range from district championships at various sites around the region, to an invite to the regional semifinals at the Patriot Center to a birth in the state semifinals at the Siegel Center in Richmond. As has been well reported for years, the Northern Region has not won a state championship since 1981. The Northern Region sends good teams to the state tournament every year. Will this be the year we break through? Most around the region believe TC Williams has a chance, among other teams.
Though our society in general and athletics specifically are certainly results oriented, let us not forget that there is tremendous value in the journey, not only in the destination. For each team that wins a district championship in girls or boys basketball, there are six or seven other teams of 12-14 players that tried just as hard to compete for the title. While two teams advance to the state tournament, 28 other Northern Region teams stay home.
The journey for many basketball players, coaches, and parents began the day after the 2006-07 season ended. Many players move right into AAU, spring leagues, open gym, and conditioning, not to mention spring sports. The journey continues through the summer with leagues, camps, more AAU, and conditioning. When school begins in September, those who are not participating in fall sports are again involved in fall leagues, weight training and conditioning, and sometimes more AAU.
Finally, November rolls around and tryouts and practice begin, leading to the next phase of the journey – opening night in December. The season itself can be a roller coaster. The season assumes its Tuesday and Friday night rhythm and the journey continues. Each day in the journey is new and different for players, coaches, and parents.
Winning streaks, losing streaks, increased playing time, decreased playing time, carpools, team meals, more conditioning and weight training are all part of this daily journey.
The old adage about not getting too high after a win or too low after a loss seems appropriate here. There are many emotional peaks and valleys for individuals and teams during the course of a season.
Trying to stay even-keeled through this grind is a challenge, but very important. Let's not forget that all of these student athletes attend seven classes a day, many in a very challenging college preparatory curriculum including honors classes and Advanced Placement courses.
This incredible journey is where all of the learning takes place for student athletes. Student athletes must learn to manage their time, exercise discipline, teamwork, and to commit to something greater than themselves. They must learn to handle both success and disappointment. Hopefully, our students can apply all of these valuable lessons later in life as they move on to college and to the "real world."
There is an old saying in sports that it is the journey that counts, not the destination. While we are all striving for the destination of a championship, the true growth and enjoyment comes in the daily journey of hard work, striving to get to that championship level. Winning is not everything, but the effort to win is. So when you get out to watch a district or regional championship game in the coming weeks, don't forget all of those student athletes who have been on the journey since the end of last year and are already starting the journey for the 2008-09 season.
What a journey. What a great time of year.
— Brian Doyle is the head boys basketball coach at Centreville High School. The Wildcats went 4-1 in the month of February and secured a No. 5 seed in the Concorde District tournament before falling to No. 4 Herndon, 70-61, on Tuesday night.