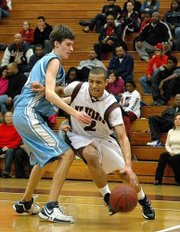 Last season, Yorktown was the No. 4 seed heading into the district tournament. They won three straight games to take the district crown, edging powers like Edison and Wakefield. But three days later, the Patriots were on the wrong side of a triple overtime thriller, losing 52-50 to West Potomac, then the fourth seed from the Patriot District.
The Patriots certainly weren't expecting a district title this season after losing would-be senior guard Brian Cahill, who transferred to St. Stephens & St. Agnes. But senior David Grebb and junior Simon Kilday took control of the scoring, while sophomore Mike Veith and Brady Rall provided scoring off the bench. Senior point guard Tim Reynolds, along with junior forward Kyle Toulouse, who suffered a severe concussion late in the season, contributed defensively. Wes Huntoon, a senior co-captain, who had six points against Madison and was one of the few returnees, added vital senior leadership.
<b>IN THE DISTRICT CHAMPIONSHIP,</b> Kilday opened and closed the door on Saturday night at Mount Vernon, as second-seeded Yorktown outlasted the top-seeded Majors by slim 60-56 margin to win their second straight district title. Kilday, with a team-high 20 points, opened the scoring with a three-pointer and then hit another one with just over a minute remaining to break a 52-52 tie.
Mount Vernon answered with a bucket from second team all-district forward Skylar Jones, but used the free throw line and a hard fought offensive putback from Kilday to score the next five points and hold on for the championship win.
"We tried to control the tempo with our zone (defense) and be patient on offense," said Yorktown head coach Rich Avila. "It's just so hard to do for 32 minutes because they [Mount Vernon] are just so explosive, they can score in bunches and when you have a kid like DeLancey who can kind of just take over the game out there, it's difficult to do that."
"They outplayed us particularly in the first half," said Mount Vernon head coach Alfonso Smith. "Much like the game we played them over at their place (a 63-58 Yorktown win on Feb. 14th). With a team that plays pretty well, it's real difficult to put ourselves in a position to win when we play a bad half from the start."
The differing styles of play for Yorktown and Mount Vernon led to a split of the regular season series, with each team winning on its home floor.
<i>—Eric J. Gilmore also contributed to this story.</i>