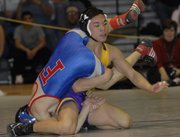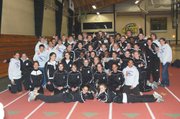 <b>Bruins Boys and Girls Win</b>
The Lake Braddock boys and girls track team took home a pair of matching titles at the 2008 Northern Region indoor track and field meet on Feb. 23 at George Mason University. The Bruin boys edged out Edison 74.50-70.00 while the girls beat T.C. Williams by a more-comfortable 78.50-63.00.
Senior Melanie Akwule led the Lake Braddock girls in scoring, placing first in the 55-meter hurdles with a time of 8.69 seconds. Akwule also placed second in the 55 dash (7.35), second in the triple jump (37 feet, 3.50 inches), third in the long jump (17-07.25), and was a member of the girls 4x400 relay team that finished fourth with a time of 4:07.10.
The boys were led by senior Chris Letson who took home the gold in the 300 and 500 runs with times of 35.73 and 1:05.37, respectively. Letson was also a member of the boys 4x400 relay which finished first with a time of 3:26.40.
Other top finishers for the Lake Braddock girls were – Becca Sinichko (4th, 500, 1:18.32); Liana Epstein (3rd, 1600, 5:12.01); Anna Corrigan (3rd, 3200, 11:16.35); and Emily Ingram (4th, 55 hurdles, 8.91).
On the boys side, Keon Robinson contributed a second-place finish in the triple jump (44-07) and a fifth-place finish in the long jump (21-02.50). Michael Santano took second in the 55 hurdles (7.63) and third in the 500 (1:06.73).
<i>The Bruins will look to continue their momentum at the AAA VHSL indoor track and field meet this weekend at GMU. </i>
<b>AAA State Wrestling</b>
The Northern Region celebrated three individual state titles at the 2008 AAA VHSL State Wrestling Championships on Feb. 23. Lake Braddock junior George Billy (44-2 record) won his second Virginia state title, beating Shane Gentry of Colonial Forge in a 4-2 decision. Billy won the 103-pound title in 2006 as a member of the Robinson wrestling team and also owns a 2007 Nebraska state title. Senior Jake Carey (44-3) of Westfield won the 145-pound title by beating Cory Bartolo of First Colonial in a 7-2 decision. Carey, Westfield's first four-time state champion, became the first Bulldog in the program's history to be a three-time state placer. Carey placed fifth in 2006 at 130 and seventh in 2007 at 140. Langley junior David Helmer (41-5) earned the final state title for the Northern Region at the 152-pound weight class with a 10-4 decision over Joey Grainger of Great Bridge.
Three other wrestlers, Hayfield's Raymond Borja (119 pounds), Langley's Michael Bowman (125 pounds) and Langley's Colin Zoski (135 pounds), advanced to the finals. In all, 23 of the 56 Northern Region wrestlers who traveled Oscar Smith High School placed at the meet.