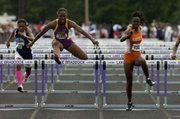 The Lake Braddock girls outdoor track and field team won their sixth consecutive Northern Region title on Friday, easily outscoring second place Centreville, 101-56.50. Bolstered by strong performances by senior Melanie Akwule, sophomore Liana Epstein and senior Anna Corrigan, the Bruins placed in the top three in seven events during the two-day meet.
Akwule was the leading point-scorer for the Bruins, taking 2nd in the 100-meter hurdles (14.74 seconds), 2nd in the 300 hurdles (45.22), 2nd in the triple jump (38 feet 10.5 inches), 3rd in the long jump (18-05.50) and anchored the Bruins' winning 4x100 relay team (48.77).
Epstein took home two gold medals at the meet, winning the girls 1600 run (4:57.46) by .42 seconds over Herndon's Hiruni Wijayaratne. Epstein was seeded a full 10 seconds behind Wijayaratne entering the event. Epstein also anchored the Bruins' winning 4x800 relay, joining senior Lindsey Luria, senior Michaela Sands and junior Taylor Moore to win the event with a time of 9:26.83.
Corrigan also battled Wijayaratne during the meet, placing second to the Herndon junior in the 3200 run. Corrigan finished with a time of 11:12.81, beating out third place Thomas Jefferson senior Connor Fleming by 4.01 seconds.
The Bruins will take the track this weekend in Newport News for the AAA Virginia State Outdoor Track and Field Meet.