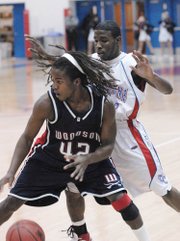 Ivan Thomas knew at the beginning of the season, that while this T.C. Williams team didn't have the offensive firepower from last season, that their stout defense would continue the Titans juggernaut this year.
"During this time of year, it's defense that wins it," said T.C. Williams head boys basketball coach Ivan Thomas, whose Titans held W.T. Woodson to 10 points or less in each quarter in their Northern Region quarterfinal match during a comfortable 48-32 win at home.
"Defensively, that is where we rest our hat," said Thomas. "I'm proud of the way that they played defense."
Both teams got off to an uncharacteristic slow start in the first quarter, combining for 11 points. While the Titans found their offense in the second with 15 points, the Cavaliers were mired in poor shooting and plagued by turnovers.
"I thought that we got some open looks by our best shooters. That is basketball, sometimes shots don't go down," said Woodson head coach Doug Craig, whose team shot 29 percent from the floor. "To beat a good team on the road, it helps if you can make the outside shots."
T.C. Williams (24-3) rotated five different defensive schemes against Woodson (18-7) — keeping Craig and the Cavaliers on their toes.
"They never know what they are going to get — keeping them on edge on what set to run," said Thomas, whose Titans forced 10 first-half Woodson turnovers. The Cavaliers had four players score, three over two points — compared to the Titans' nine.
Woodson's mistakes allowed for the Titans, who, according to Thomas, had an off day offensively, to maintain a comfortable lead throughout the game. The Titans missed a total of seven layups in the game, mostly early on, a fact that bugged their head coach.
"We don't miss layups," said Thomas. "We felt that we could have put the game away early if we made those. If we hit those layups, it would have been over."
The Cavaliers did hang around, cutting the Titan lead to 10 points early in the fourth.
"I don't think that we came in and laid down for them and they blew us off the court. I don't think that that was the case," said Craig. "When you play as an underdog, the more you keep it close and manageable, the more pressure goes on them."
Woodson couldn't, however, pull any closer and Craig began to cycle in his bench players in what became the Cavaliers' last game of the season.
"We have played some real good basketball down the stretch [but] we put ourselves in a tough spot having to come over here," said Craig after the game. "We left it on the floor."
The Titans will look to continue their hunt for back-to-back Northern Region titles when they take on Lake Braddock on Friday night at George Mason University in the quarterfinals. T.C. Williams has beaten Lake Braddock three times already this season by an average of 15.6 points and has not lost to a district opponent, which the Bruins are, in 51 games.
"We play a championship game every night with the teams trying to knock us off," Thomas said. "It's nothing new."
The Titans breezed through the Patriot District, winning the title for the third straight season by virtue of an 81-47 rout of sixth-seeded West Potomac in the title game. The Titans scored six straight points in the second quarter and took a 10-point lead into the intermission.
"All year long, the goal has been to win the last game we play," said senior center Tomas Camara.
Top-seeded T.C. broke the game loose in the third quarter, with 14 straight points before easily cruising in the final frame. Winbush led all scores with 24 points.
"It's motivating to keep winning," Winbush said. "People keep trying to knock us off, but we've had people step up."
T.C. Williams senior guard Travis Berry was named the tournament's Most Valuable Player, while two other Titans made the all-tournament team.
"Every road stop we get and every opportunity, we're afforded, we're going to cut down the nets," Thomas said. "We collect them."