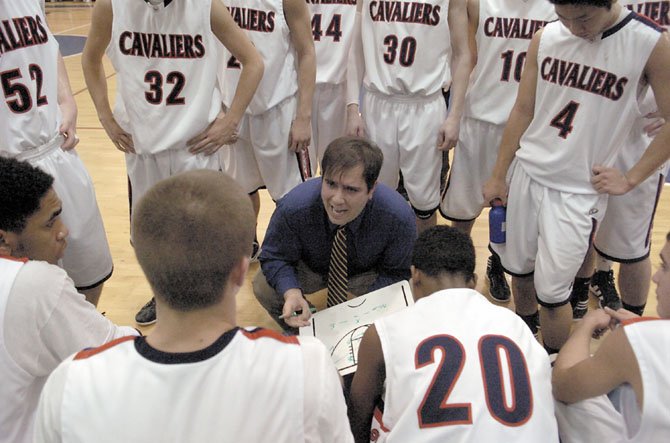 Fairfax — The T.C. Williams boys' basketball team trailed Woodson by two points midway through the fourth quarter and was in search of a defensive stop when the Cavaliers passed the ball to Peter Murray, who was standing alone at the top of the arc.
Murray, a reserve post who had yet to score, let fly from long range, burying a 3-pointer that left TC head coach Julian King slumping forward in disbelief in front of the Titans' bench.
Murray's 3-pointer was one of 13 for the Cavaliers, whose sharpshooting lifted them past the Titans, 73-70 in double overtime on Jan. 24 at Woodson. The victory improved the Cavaliers' record to 14-3 and helped them retain sole possession of first place in the Patriot District with an 8-1 mark. It also gave Woodson a regular-season sweep against a TC program that has won four of the last five Northern Region championships.
"It's really big for our confidence," senior guard Brandon Stepka said.
The Titans fell to 5-5 in the district, including a 48-38 home loss to Woodson on Dec. 20.
"This was a big win because even though they don't have the best record in the district, they're one of the top teams in the district," Woodson junior Tommy Stepka said. "They're very tough to play. They'll be up there in the district playoffs."
Tommy Stepka stole the show early, knocking down six 3-pointers in the first three quarters, and his teammates contributed big plays down the stretch. TC held a lead in the final minute of regulation and both overtime periods, but each time Woodson found a way to fight back.
"We've got a lot of guys that can shoot the ball."

Woodson boys' basketball head coach Doug Craig
TC led 70-69 in the second overtime when freshman point guard Eric Bowles, Jr. scored what proved to be the game-winner during a drive to the basket with 37 seconds remaining. Brandon Stepka added a pair of free throws with 12.7 seconds to play.
TC led by three late in the first overtime and missed the front end of a one-and-one with a chance to build a two-possession advantage. Woodson capitalized, tying the score at 64 when Alex Boock buried a corner 3-pointer with 12.4 seconds remaining.
The Titans led 57-55 near the end of regulation, but Brandon Stepka's putback helped force overtime.
"We have a lot of respect for [T.C. Williams]," Woodson head coach Doug Craig said. "We knew they didn't really play their best game against us earlier in the year. We knew that and our kids knew we were going to get their best effort tonight --- a championship-level effort out of them. …
"I felt we really battled, especially in the overtimes. We were behind a lot of the first overtime and we still found a way."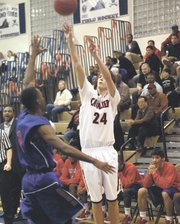 While several Cavaliers contributed to the win, Tommy Stepka stood out with a career-best performance from behind the arc. The junior set the tone early, scoring Woodson's first six points with a pair of threes. His third triple pulled the Cavaliers within one at 29-28 prior to halftime, and Stepka connected on a trio of 3-pointers in the third quarter. He finished with a team-high 24 points.
"He's [6-foot-5, 6-foot-6], he's very long," Craig said. "He shoots the ball really well."
Brandon Stepka, Tommy's older brother, scored 12 points, including a pair of 3-pointers. Bowles, Jr. finished with 11 points and one 3-pointer, and Boock added eight points, including a pair of threes.
Simon Shim and Murray each made one 3-pointer.
"We've got a lot of guys that can shoot the ball," Craig said.
T.J. Huggins led TC with 25 points and Landon Moss finished with 22.
Woodson has won six consecutive games. The Cavaliers will host Lake Braddock, the only Patriot District team to defeat them this season, at 7:30 p.m. on Friday, Jan. 27.
"We're playing real well right now," Craig said, "but we want to be the best team in February and March, not necessarily in January."