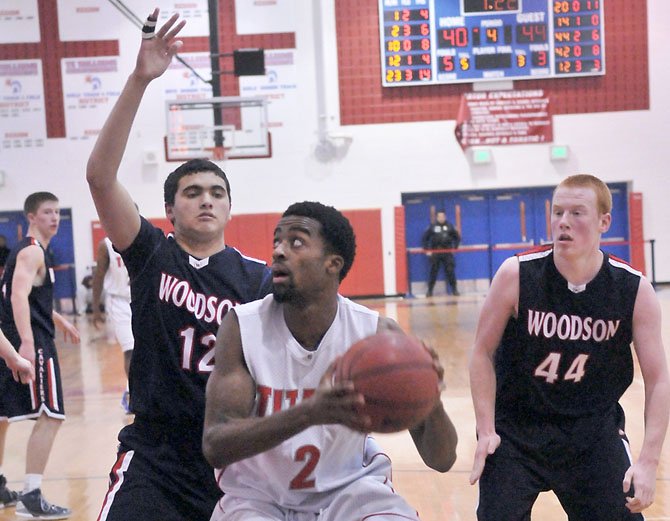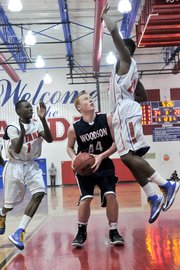 Alexandria — The Woodson boys' basketball team's collection of tall sharpshooters is a primary reason the Cavaliers entered Tuesday night's contest against the T.C. Williams Titans riding an 11-game winning streak.
With four players listed at 6 foot 4 or taller capable of stroking 3-pointers, Woodson provides a tough matchup for any opponent. TC, on the other hand, compensates for offensive shortcomings with a physical brand of basketball and a group of bruisers strong enough to make an impact in the paint.
With a chance to pull within one game of first-place Woodson, TC, the defending Patriot District champion, pounded the ball inside and tested whether the Cavaliers were as interested in defending the paint as they were launching shots from the perimeter. The Titans succeeded with their physical attack into the third quarter, but it was the Cavaliers who left The Garden with their win streak intact.
WOODSON DEFEATED TC 64-54 on Jan. 22 at T.C. Williams High School. The Cavaliers improved to 15 to two overall, nine to zero in the district and extended their win streak to 12 games. The Titans dropped to nine to seven overall, six to three in the district and into a third-place tie with West Potomac. Lake Braddock is in second place with a seven to two district record.
A post-up bucket by TC's Landon Moss gave the Titans a 34-28 lead with six minutes 14 seconds remaining in the third quarter. Woodson battled back and took a one-point lead into the fourth quarter before outscoring the Titans 23-14 in the final period.
"We felt we had a quicker first step than they did," said Moss, who finished with six points. "They've got strong guys, but we felt like we could overpower them, maybe, if we got the ball inside …"
"[The Titans] came out real hyped and were pushing us around at the beginning, but as the game went on we got a little chip on our shoulders and decided in order to be in this game and to win this game, we've got to push back."

--- Woodson senior Peter Murray
Of the Titans' first 34 points, 28 came near the rim or from the free-throw line. Of TC's final 20 points, only five came near the rim or at the free-throw line.
"You've got to be kind of physical with us and that's what they did the first time we played them --- they really pounded us down low," Woodson head coach Doug Craig said. "They got the ball inside. They've got a lot of guys near the basket that make shots. … I think in the first half we didn't really respond very well to the physical nature of the game. Especially on the defensive end on the backboards, we were a little soft. I think that was kind of our challenge to them at halftime was we wanted to get after them and do that."
How did the Cavaliers respond in the second half?
"I thought we were fine in the second half," Craig said. "Once we strung together a couple stops, I felt like I could kind of see our confidence growing. We're going to score the ball against most teams. We're blessed with a lot of guys that can put the ball in the hole. For us, it's about the defensive end and the consistency at the defensive end of the floor."
Woodson received a late boost from senior Alex Boock, who sat on the bench for most of the first half after being whistled for his second foul less than three minutes into the game. After not scoring a point for the first three quarters, Boock tallied 12 in the fourth, including eight points during an 11-3 Cavalier run to open the period.
"The main thing was just to make sure I stayed focused," Boock said, "because sometimes you can sit awhile [and] you get out of the game, you lose your focus [and] you lose your rhythm."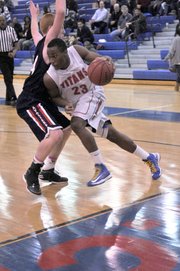 A THREE-POINT PLAY by Woodson senior center Peter Murray gave the Cavaliers a 52-43 lead with 4:05 remaining in the fourth. With TC trailing by six late in the game, Murray came up with a tip-in to extend the Woodson lead to 59-51 with 1:02 to play.
"It's always a challenge. T.C. Williams, they're known for being physical," Murray said. "They came out real hyped and were pushing us around at the beginning, but as the game went on we got a little chip on our shoulders and decided in order to be in this game and to win this game, we've got to push back. I thought we were able to do that very well and eventually we started controlling the boards better and not letting them get all those offensive rebounds."
Each of the Cavaliers' vertically-gifted shooters scored at least eight points. Six-foot-six Tommy Stepka led Woodson with 15 points and made a trio of three-pointers. Six-foot-four Boock scored 12 points, including a pair of three-pointers. Six-foot-four Murray had 11 points and six-foot-four Andy Stynchula knocked down two three-pointers and finished with eight points.
Sophomore point guard Eric Bowles, who is listed at five feet 11, finished with 13 points. Bowles' jumper in the closing seconds of the third quarter gave Woodson a 41-40 lead. The Cavaliers led for the remainder of the contest.
Along with a 12-game win streak, Woodson is ranked No. 12 in the Washington Post's top 20 and is the only school from the Northern Region to make the list. VirginiaPreps.com has the Cavaliers ranked as the No. 1 public school team in the state of Virginia. T.C. Williams is ranked No. 22.
"It kind of [makes you a] little cocky," Bowles said, "… but you can't just come out and think that people are going to just give up because you're ranked 12th [by the Washington Post]. You still have to play your game, play hard and do what you do to get the win."
Javon Wilson led TC with 17 points, including four three-pointers. Malik Carney scored 14 points for the Titans.
TC head coach Julian King said the Titans need to find a way to get more players involved at the offensive end.
"I think [Carney] played really well," King said. "He's been pretty consistent for the last few games. We just have to find some consistency from someone else. Javon Wilson played well, but it just can't be a two-man show. It's got to be six or seven guys with the type of team we have."
Woodson went 13 to one during the 2011-12 Patriot District regular season, including a pair of wins against TC, but lost to the Titans in the district tournament semifinals. Does the way last season played out make Tuesday's loss any easier to take?
"It means absolutely nothing," King said. "We lost an opportunity to help ourselves with the seeding in the district."
Woodson will travel to face Lake Braddock at 7:30 p.m. on Friday, Jan. 25. TC will travel to face Lee at 7:45 p.m. on Friday.