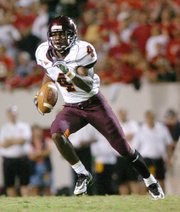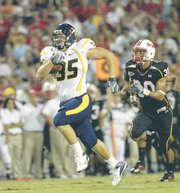 Two former local High School football players had impressive showings at the 2008 National Football League Scouting Combine, held Feb. 20-26 at the RCA Dome in Indianapolis, Ind. Billed as the NFL's annual job fair, the six-day event gives prospective professional players a chance to show off their physical and mental attributes to more than 600 NFL head coaches, general managers and scouts.
Fairfax High School graduate <b>Owen Schmitt</b>, who recently finished an All-American season for the West Virginia Mountaineers in which he started 11 of 13 games at fullback, rushing 47 times for 272 yards and four touchdowns, was a top performer for running backs at the bench press, putting up 26 repetitions of 225 pounds. The 6 foot, 2 inch, 250-pound blocking fullback is expected to be drafted in the middle rounds of the NFL Draft and is considered the best fullback available in the draft.
Westfield High School and Virginia Tech graduate <b>Eddie Royal</b> exceeded expectations at the combine, performing well at the 40-yard dash, bench press, vertical jump and 60-yard shuttle.
Royal placed first among wide receivers in the bench press, putting up 24 repetitions, was sixth in the 40-yard dash with a time of 4.39 seconds, was sixth in the vertical jump with a height of 36.0 inches and was a top performer at the 60-yard shuttle with a time of 11.66.
The 5-10, 185-pound receiver finished the 2007 season with 32 receptions for 485 yards and four touchdowns and averaged 15.1 yards per punt return. Royal finished his career at Virginia Tech as the all-time leader in punt return yardage (1,295). Despite his lack of size at his position, Royal is expected to be drafted in the middle rounds in the NFL Draft.
<i>The 2008 NFL Draft will be April 26-27.</i>