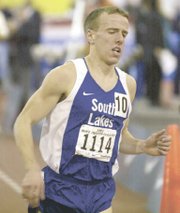 Two-high profile Northern Virginia athletes experienced different results at the recent Olympic Trials.
Renowned long distance runner Alan Webb of Reston saw his hopes of being a part of the U.S. Olympics team at the upcoming games in Beijing, China come to an end after a fifth place finish in the finals of the 1,500-meters in Eugene, Ore.
Meanwhile, Great Falls long distance swimmer Kate Ziegler gained a spot on the team by qualifying in two events last week in Omaha – the 400-meter freestyle and the 800-free, the latter considered one of her strongest events.
Webb, a South Lakes High graduate, did not qualify for this year's Olympics after having done son in 2004 after winning the 1,500 event at that year's Trials.
The 1,500 was the lone event Webb competed in at last week's Trials. He had originally set his sites on trying to make the Olympics squad in both the 1,500 and 800 events. But ultimately, he elected to drop out of the 800 Trials competition in order to put all his attention on the 1,500.
Webb earned the top time in the 1,500 at the quarterfinals. Then in the semifinals, he ran well enough to earn a position in Sunday's finals. But he did not run one of his better races in the finals.
It was just a year ago that Webb ran the fastest 1,500 time of 2007 at a competition in Paris.
<b>ZIEGLER</b>, a Bishop O'Connell High graduate, was focused on the 800-free event going into the swimming trials in Omaha. But she was set to compete in the 400-free prior to that, and garnered a second place finish in that event on June 30.
With the relief of earning her spot on the U.S. team with that strong showing in the 400, Ziegler, 20, was able to put all of her focus on the 800. In the preliminaries of the event, she had the best 800 time. That set her up to compete in last Saturday's finals where she finished second.
Katie Hoff of Towson, Md. won the event. Hoff had also finished ahead of Ziegler at the 400 finals. Nonetheless, Ziegler, with her two second place finishes, can now concentrate on resting and being at her best for the Olympics next month. It will be the first time Ziegler has competed in the Olympic Games.