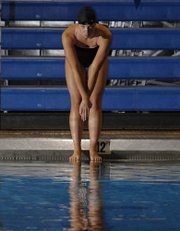 Two Northern Virginia swimmers had different expectations going into the U.S. Olympic Trials in Omaha, Neb. last week.
Kate Ziegler, a Bishop O'Connell graduate, expected to make the team, while Katie Radloff, a former Yorktown standout, just wanted to swim a personal-best time. Both completed their missions.
Ziegler gained a spot on the team by qualifying in two events — the 400-meter freestyle and the 800-free, the latter considered one of her strongest events.
She first qualified for the 400-free, finishing second to rival Katie Hoff, who trains in Towson, Md. on June 30.
With the relief of earning her spot on the U.S. team with that strong showing in the 400, Ziegler, 20, was able to put all of her focus on the 800. In the preliminaries of the event, she had the best 800 time. That set her up to compete in last Saturday's finals where she finished second.
Hoff had also finished ahead of Ziegler at the 400 finals. Nonetheless, Ziegler, with her two second place finishes, can now concentrate on resting and being at her best for the Olympics next month. It will be the first time Ziegler has competed in the Olympic Games.
Ziegler will first swim at the Beijing National Aquatics Center, also known as "The Water Cube," in the 400-freestyle prelims, which will take place on Aug. 10. The finals and medal ceremony will be held the following morning. She'll likely get a few days rest before the 800-meter prelims take place on Aug. 14. The finals and medal ceremony of the 800 will be on Aug. 16.
<b>RADLOFF</b>, meanwhile, swam a career-best 26.19 seconds to finish second in her preliminary heat, and tie for 44th overall. Her previous best-mark was 26.29 seconds, which she set last August at the U.S. Junior National Championships to qualify for the Olympic Trials.
In converting her 50-meter times to a yard-length pool, which she competes in at William & Mary, her time would have been 23.04 seconds. That would have equaled to the fifth-fastest time in school history, even though Radloff — the reigning Colonial Athletic Association Swimmer of the Year — already owns the school's top-five times.
Radloff will now continuing training with the Arlington Aquatic Club, led by O'Connell coach Evan Stiles before starting the NCAA season on Oct. 11 at 1 p.m. when the Tribe face off with Towson.