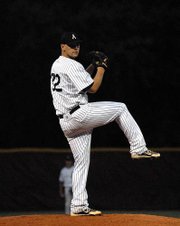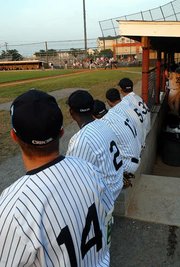 Daniel Bifano, a towering 6-foot-3, 240-pound right handed pitcher, struck out nine Silver Spring-Takoma Thunderbolts on Tuesday at Four Mile Run Park, giving the Alexandria Aces a 12-4 victory — it's sixth of the season.
Bifano was assisted by his summer teammate last season, John Skaggs, who was one of three Aces to tally multiple hits. Only Bifano, who is a junior at California State University – Monterey Bay, and Skaggs, a sophomore at Wayne State in Michigan, were teammates last season in Hawaii.
Such is the life of the wood-bat summer college baseball. The pair, along with 29 others, traveled across the country to be part of Alexandria's inaugural season in the Cal Ripken, Sr. Collegiate Baseball League, a Baltimore, Md.-based wooden bat league comprised of college players.
"It's fun meeting new guys and playing summer ball is a lot of fun," said Bifano, a Carmel, Calif. native. "I've never been out this far before — it's a new opportunity and a new team."
The players spend their summers free of charge with host families, most of which have younger children. Virtually all of the players had never met their host family before settling in for the summer.
"It's kind of awkward at first, but you get used to it," Bifano said. "The people are really nice here — [my host family] are awesome people. They make it easy to be here. Without host families, we wouldn't be a very successful league."
<b>THE ACES</b> are the first Alexandria-based baseball team since the Alexandria Dukes, the Carolina League franchise that is now the Potomac Nationals. The Dukes were formed in 1978, and through their six-year existence, served as affiliates of the Seattle Mariners and Pittsburg Pirates.
With the construction of G. Richard Pfitzner Stadium in nearby Woodbridge, Va., the Dukes became the Prince William Pirates, and later morphed to what is now the Potomac Nationals, the high-A affiliate of the Washington Nationals.
So Alexandria was left without a team for 25 years, when the fourth-year Cal Ripken, Sr. Collegiate Baseball League was seeking an eighth franchise, Alexandria fit the criteria.
"We're always looking to find good communities to expand to, and I think this is an ideal spot. We're real excited about having a team here," said Alex Thompson, the league's executive director. "Obviously, there are a lot of rooms for growth so the possibilities are endless."
Other teams in the league include Rockville, the defending champions, along with the Express Bethesda Big Train, College Park Bombers, Herndon Braves, Silver Spring-Takoma Thunderbolts, Maryland Redbirds and Youse's Maryland Orioles. Alexandria was founded in June 2007, and on June 6, 2008, and played its first game against the Herndon Braves — a 10-0 loss —at Four Mile Run Park.
"We're happy to carry on the tradition here," Thompson said. "We try to find communities that have a rich baseball atmosphere to begin with, and obviously Alexandria has that with the Dukes. We're hoping we can do the same thing, and bring the same energy about baseball."
The league, similar to the Valley Baseball League and Coastal Plain League, along with the renowned Cape Cod League offer an alternative to families looking for cheap, summer fun. Tickets $5 for adults and $3 for children.
"It's not like Major League baseball, and it's really not even like minor league baseball because it's even more intimate," Thompson said. "The kids stay with families in the community. The kids are on the field in between innings and after the game, the players interact with the kids so it's much more of an intimate setting."
<b>WITH THE PROFESSIONAL</b> teams using the wood bats, playing in summer leagues provides an opportunity for players to hone their skills, while auditioning for scouts. Thirty-one current of former players were drafted in the recent Major League amateur draft, which provides the league an opportunity to advertise the chance to see possible professionals before they make it to the major leagues.
"[The wooden bats] have a smaller sweet spot on the barrel," said Springfield, Ga. native Josh Wilson, who is also a sophomore at Armstrong Atlantic. "It's a little heavier, but it's not that much different."
With 42 games squeezed into a two-month schedule, the players actually have little downtime.
"It's not as catastrophic as many people think," said Aces manger Eric Williams. "The kids adapt to each other, to the host family and to the environment. This environment is a little difficult for a lot of them because they come from areas where getting from Point A to B is relatively easy, but this is a little different. You throw in a little traffic and a one-way street and it can get pretty hectic."
The schedule purposely mirrors a professional league, which can cause headaches for the coaches trying to balance winning with personal improvement.
"You're trying to find the fine line between pushing too hard and not enough," said Herndon head coach Chris Smith. "You want to take it serious, but at the same time you have to realize that many of them have played more games in college than they did in all of high school, and then they're having this on top of it…it's baseball — it's not rocket science."