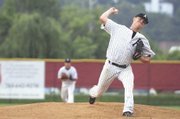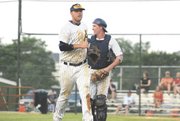 Being one of just three players back for a second season of Alexandria Aces baseball, right handed pitcher Max Knowles from University of North Carolina-Wesleyan noticed a different vibe almost as soon as he stepped foot in the dugout at Four Mile Run Park a few weeks ago.
Just like the year before, the Aces' inaugural season in the Cal Ripken Senior Collegiate Baseball League (CRSCBL), Knowles was presented with a clubhouse full of new faces and names to learn. But this time around, despite having just completed his sophomore year in college, Knowles is a grizzled veteran.
"Coming back, it's a little more of a leader role because people are asking you questions about the coaching staff and how things are run," said Knowles. "There's always that awkwardness the first week or so when it's a new team, but I would say there's less nervousness this year."
The same could be said for the entire Alexandria Aces franchise as it enters its second season providing Alexandria with a collegiate wooden bat baseball team. While the struggling economy has minor league teams of all kinds anxious about how families will choose to spend their disposable income this summer, team president Pat Malone and the rest of the franchise can point to last season's inaugural campaign in which the Aces drew more fans than all but one team in the CRSCBL.
<b>MALONE</b>, who was a member of the Washington, D.C. Baseball Commission during the 1980s and early 1990s as they tried to bring a Major League Baseball franchise to the area, came up with the idea for the Aces franchise back in 2006.
Alexandria had been without summer baseball since 1983, when the Class A Alexandria Dukes left town to become the present day Potomac Nationals. The 15-year lapse didn't seem to affect the enthusiasm and reception the Aces received from the community, though. Last summer, the team drew close to 3,000 fans for their 21 home dates, and Malone thinks that number will only grow once Alexandrians realizes there's quality baseball at an affordable price literally in their backyards. The Aces play at recently renamed Frank E. Mann Field in Four Mile Run Park next to Cora Kelly Recreation Center.
"We see the long term potential of the Aces in Alexandria and we're starting to build a following," said Malone. "We have a sense of anticipation that we didn't have. Last year nobody knew about us and we were reintroducing the city to wooden bat baseball."
<b>THERE WEREN'T</b> many that knew about Knowles when he arrived in Alexandria last summer. He was coming off a freshman season at UNC-Wesleyan in Rocky Mount, N.C., in which he pitched just 16 innings, amassing a 1-1 record.
But he "worked on some things" over the summer with the Aces and closed his sophomore season as his college team's No. 3 starter with a 5-2 record. That gets down to the crux of why the Alexandria Aces and the seven other teams from around the area that make up the CRSCBL exist.
Now in his second season as manager of the Aces, Eric Williams thinks the best part about the league is watching college kids come in for the summer, get acquainted with some new teammates and philosophies, and then use those experiences to further their own games.
And like Malone and Knowles, he thinks a year under his belt will help everything run that much smoother. This year's roster has 29 college players from as close as nearby Mount St. Mary's College in Maryland and as far away as University of San Francisco in California.
"The organization is a little stronger, a little more put together," said Williams, who has previously coached high school baseball in the area at Annandale and Lee High Schools. "Just the familiarity with the ballparks and the whole league, and what to expect at different places is better. We only have three guys returning, so the key early on is getting to learn who is capable of doing what."
In the first week of this new season, Williams has liked the contributions he has gotten from catcher Will Davis (Penn) and power hitters Brad Johnson and Landon Joost of Yashiva, an Arizona school that plays with wooden bats during the college season.
The Aces started this season 1-2 after finishing in fifth place with a 16-24 record. The team has 18 more home games on their schedule. To find out when they are and what sort of promotions the team is offering this summer, go to www.alexandriaaces.org.
"The biggest thing I'd like to see this season is more people come watch games, bring their families, and just be a part of the experience," said Malone. "We have a venue where people can see wooden bat baseball at an affordable price and literally get to see future stars today. It's really good baseball, we think we have a great product."