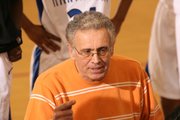 Bill Finney has been the athletic director at Marymount University, the Arlington-based Division III Catholic school, since 1989. He oversees the operation of 12 intercollegiate sports—six women's sports and six men's teams, all while coaching the women's basketball program. As the top athletic official, he helped to navigate the Saints into of the Capital Athletic Conference in 1990, and was the conference's first president.
The CAC includes Gallaudet University, Hood College, University of Mary Washington, St. Mary's College of Maryland; Salisbury University; Villa Julie College (which recently announced it will change its name to Stevenson College); Wesley College and York College of Pennsylvania.
As a coach, Finney surpassed the career 500-win plateau in mid-February and led Marymount to a Division III Elite Eight berth in 2006. A former basketball player at Syracuse University, Finney has overseen adding women's lacrosse, men's golf, and men's and women's cross country, all in the past 20 years.
The Marymount University athletic Web site is www.marymount.edu/athletics/.
<i>In between summer camps, Finney recently sat down for a question-and-answer session with The Connection to give an idea where the Marymount athletic program is headed.
<b>TC: What are the biggest challenges you face as the AD at a Division III school like Marymount?
<b>BF: Every Division III school has their own challenges. The overall challenge for a Division III program is trying to tell parents that are looking for scholarships, that a Division III program and education can be as good as a Division I. With all of the AAU program and across the board with various sports at high schools and the parents investing their time and money in trying to get their kids Division I scholarships athletically, that sometimes they get exposed. They don't realize that at some point there can be attractive packages at a Division III program academic scholarship wise that may be equal.
<b>TC: With you approaching your 20th season as the athletic director, how has Marymount changed?
<b>BF: Obviously, when we went co-ed. Bringing the men on campus was a significant change. It was very difficult when I was recruiting as the women's basketball coach prior to the men coming on campus, there were too many prospects that didn't even want to look at a single sex college. So when that took place, I think it became an easier sell.
Another area that made a huge difference was when we renovated the Lee Center. It was much more appealing to recruits.
The third thing we're looking to do is to expand and get our own field. We're talking to various people and as soon as we have that, we'll complete the phase on the athletic side of having the facilities to compete.
On the academic side, we're a very good fit for students that are looking for a small school within the Beltway…I can't tell you how impressed I am with our athletes and our students graduating and already having jobs available.
<b>TC: How tough is it to balance the duties of the head women's basketball coach with being the athletic director?
<b>BF: The balancing act is difficult. I'm one of three AD's in our conference who are coaching and athletic directors. I've got good support with the administration and assistant coaches in helping me do what I need to get everything done. You get used to it.
<b>TC: How big of an honor was surpassing the 500-win mark?
<b>BF: I've told so many people that all it means is that I'm old. That all comes about from the administration that supports our program. When I go recruiting for a student-athlete, I can't tell you how many times I recruit faculty members to have them sell the program. I give credit to the faculty, and then all of the players and assistant coaches who have worked with me.
It's really just a team effort.
<b>TC: Marymount started the athletic Hall of Fame three years ago? Why and what are the HOF's goals?
<b>BF: The idea was to start honoring our student-athletes who made a difference at Marymount. Ones that excelled on the playing field, or on the pool and always are good role models and students.
The Hall of Fame committee set up the criteria, and the three years of classes have been outstanding. There's many more down the road that will be recognized and I think it's about time that we started doing that. Going to the Hall of Fame banquet in early May is one of my favorite things that we do.
<b>TC: What obstacles and challenges will the Marymount athletic department face in the future?
<b>BF: The challenges down the road are getting and maintaining the facilities. We don't have the size for fields on our campus so getting that off-campus site is crucial for the next 20-25 years.
The other thing is to continue the coaching staffs together that wants to develop our programs. Because we're small, we need coaches that share a caring nature for the students coming on campus. I think we have an excellent coaching staff to do that.
And hard work — from everybody on staff — to continue what we started.