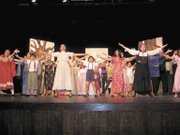 More than 30 Vienna-Oakton youngsters put their feet — and voices — together to produce the 2008 Vienna Youth Players' production of "Lost in the Woods," a Stephen Sondheim musical, premiering on Aug. 1 at the Vienna Community Center.
Presented by the Vienna Department of Parks and Recreation, "Into the Woods" is an interwoven collection of traditional fairytales transformed into an umbrella fairytale with its own plot and denouement.
From good to bad, beautiful to not-so-beautiful, the colorfully-costumed characters of childhood tales are accounted for, in a tale set to song and dance.
The cast auditioned for parts in late May, and started rehearsal in mid-June. "They have to do it all at audition, sing, dance, act," said perennial director of Vienna Youth Players [VYP] Babs Dyer. "The shows sell out every year."
Many of the actors are students of Dyer's in Fairfax High School's magnet performing arts academy. Ashley Davies, a 2008 graduate of Oakton High School, is one of them.
Narrator Davies, who says she's been interested in acting since age 7, says the play will "definitely be exciting.
"The whole cast has lots of energy and the audience will feel that."
Parents who no longer have children in the program continue to volunteer in the production arena. Co-producers, Dawn Dailey and Kathy Cutri, do planning and promotion, and help Dyer and assistant director Stephen Baldassari run the rehearsals. "We couldn't do this without Kathy Splitt, our musical director and pianist, either," said Dailey.
Baldassari is a VYP alumnus. A musical theatre major at James Madison University, Baldassari came back to VYP to contribute his expertise.
"These are talented young people," said Baldassari. "It's a good summer activity for the kids.
"I was up on that stage not too long ago, so even if I wasn't the assistant director, I'd still come, anyway."
Baldassari describes Act I as pretty much the original fairy tales. Act II is a "bit darker than Act I," because the fairytales get "all mixed up." The youngest actor is an elementary school student, and Baldassari suggests the play is appropriate for children older than seven or eight years old.
This year's performance schedule marks the 15th year of Vienna Youth Players productions. The cast and crew will have put in over 100 hours of rehearsals by the time the show opens, said Dyer, a Vienna vocal coach. Seamstress Sue Seldon, Dyer's mother, has been creating and sewing costumes for VYP for many years, Dailey said.
"People should come out to enjoy the young talent within their own community," said Dyer. "Come out to celebrate the beauty of the children's programming."
CAST MEMBERS: Grace Van der Veer, Ashley Davies, Danika Saxon, Emma Lord, Paul Anderson, Allie Rosenbluth, Paul Hogan, Nicholas Duran, McKenna Weipert, Sarah Chapin, Kerry Splitt, Anne Pasapulati, Christine Foerster, Amanda Pepper, Danika Saxon, Anshul Goyal, Roberto Rivera, Katie Somers, Greg Forbes, Sara Hendricks, Roberto Rivera, James Lex, Maddie Lord, Sara Hendricks, Jenna Robinson, Chris Chapin, Hannah Colbert, Kirby Jacobs, Kori Shaffer, Camille Testa, Lily Lord, Anna Hendricks, Olivia Duran.
Technical staff and production: Stuart Orloff, Michael Hendricks, Kathy Cutri, Dawn Dailey, Babs Dyer
Amanda Baldassari, Stephen Baldassari, Tom Epps, Amanda Baldassari, Sherry Weipert, Eric Honour, Kathy Splitt, Valerie Chamness, Joy Dilillo, Brittany Dilillo, Shelley Newhouse.
Hot dogs and pizzas donated to VYP by the Vienna Inn and Church Street Pizza.