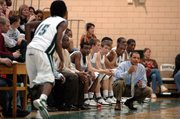 <b>School</b>: Wakefield
<b>Mascot</b>: Warriors.
<b>School Colors</b>: Kelly green and white.
<b>Athletic Director</b>: Noel Deskins, 703-228-6733.
<b>Football coach</b>Keith Powell, (second year)
The Warriors finished 2-8 overall, with the only wins coming in the National District against Falls Church and winless JEB Stuart. Powell's team suffered numerous injuries — including one to running back Jon Logan — but return its quarterback and fullback for 2008.
<b>Boys Basketball</b>: Tony Bentley
<b>Girls Basketball</b>: Marcia Richardson
<b>Baseball</b>: George Baker
<b>Most Successful Programs</b>: No school in the entire Northern Region has as many regional championships in basketball as Wakefield, with eight since 1951. Under Tony Bentley, the Warriors set a record for school wins with 28 during the 2004-2005 season. Wakefield scored 2,143 points — its highest-ever — and won the National District for third straight year. The Warriors also won the Northern Region title before suffering its only loss of the season in the state semifinals.
<b>Historic Achievements</b>: The boys basketball team carries two legendary coaches amongst its legacy, starting with Maynard Haithcock, who in 2005, was elected to the school's Hall of Fame. In his first season, Haithcock led the Warriors to the 1961 state title, as well as two other appearances in the state final. Haithcock's largest legacy was probably his role in integration — for years he scrimmaged Hoffman Boston even though it was against county and state law. More recently, Bob Veldran spent 30 years at Wakefield, leading the Warriors to numerous Northern Region titles — including one in 1990. Veldran resigned after the 2002 season.
<b>Famous Athletic Graduates</b>: The current strength and conditioning coach for Denver Broncos, Rich Tuten, was a standout football, wrestling and track star at Wakefield. He went on to have a standout career as the starting nose guard for Clemson University. After college assistant jobs, he landed at the University of North Carolina as the athletic strength director from 1988-92, before retaking the job at the University of Florida from 1993-1994. He joined the Broncos the next season and now enters his 14th season as the coordinator for the franchise's year-round strength and conditioning program.
<b>Fun Fact</b>: David Batista — better known by his World Wrestling Entertainment name Batista — graduated from Wakefield in 1988. Batista attended Thomas Jefferson Middle School, before starting at Washington-Lee, where he admits to getting in plenty of trouble in his recent biography. He transferred to Wakefield before his junior year, where he wrestled. He was ruled academically ineligible during his senior year. But all turned out well for the 6-foot-6, 290-pound professional wrestler. Batista is a three-time world heavyweight champion.
<1b>—Eric J. Gilmore