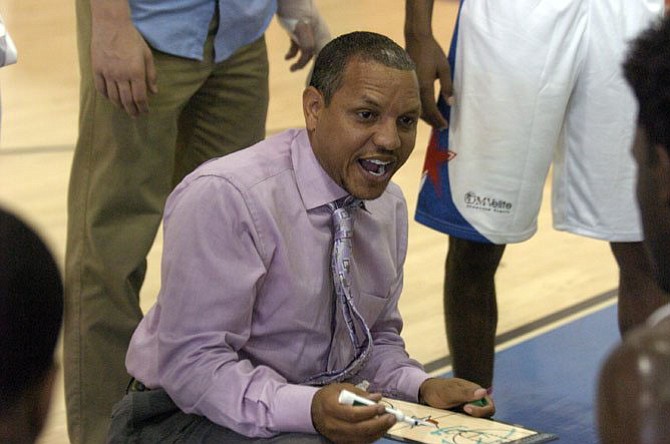 The Wakefield boys' basketball program has been a championship contender each of the last three seasons. This year's team, however, has entered unfamiliar territory.
L.A.D.
"'Life After Domo' is going to be tough," head coach Tony Bentley said. "... That kid, he meant so much to Wakefield basketball. I'd be crazy if I was one of those coaches who said we'd be fine without him."
Bentley used "L.A.D.," or "Life After Domo," as a joke with his players to reference the state of Wakefield basketball following the 2015 graduation of Dominique Tham, the Warriors' 6-foot-4 difference-maker for each of the last three seasons.
As a sophomore, he helped the Warriors win the 2013 National District championship, finish region runner-up and reach the state semifinals. His triple-double (15 points, 11 rebounds, 12 blocks) against Robinson in the region semifinals offered a glimpse into how special he could be.
As a junior, Tham was named 5A North region Player of the Year. Wakefield won Conference 13 and 5A North region titles, along with making a second straight state tournament appearance.
As a senior, Tham earned first-team all-state honors and the Warriors won their third straight conference/district crown before a disappointing exit in the region quarterfinals.
For his career, Tham finished with more than 1,300 points, 800 rebounds, 300 blocks and 100 steals.
Bentley, in his 14th season as head coach, didn't sugar coat how much the loss of Tham, who is now a freshman on the Wheeling Jesuit University basketball team, will affect the program.
"When you lose a Dominique Tham, you take years to recover when you lose somebody of that caliber," Bentley said. "It was close to when I lost George Johnson in 2007 and we weren't successful until [2013 graduate] Khory Moore came along. ... You've got to pick up the pieces. ... You just don't replace [Tham]."
Wakefield also graduated sharpshooter Marqua Walton and 6-foot-3 forward Xavier Cooper, meaning there will be a lot of new faces playing important minutes for the Warriors.
Wakefield opens its season at 7:15 p.m. tonight at home against Yorktown.
Wakefield's top two returning players are captains Deng Nhial, a 6-4 senior forward, and Alan Treakle, a 5-10 junior guard.
Bentley praised Nhial's athleticism in the past and is hoping for big things from No. 10
"He's spent two years in Dom's shadow," Bentley said. "I'm hoping for a breakout year."
Treakle transferred from West Potomac to Wakefield last year and played point guard, though he could see some time at shooting guard this season. Bentley said Treakle has become a vocal leader.
The Warriors have several transfers on their roster this season.
Jonathan Adams, a 6-2 senior forward, started for Woodbridge last season. Halil Parks, a 6-2 junior guard, started at Washington-Lee. Eric Martin a 5-7 senior, played point guard at Edison and could allow Treakle to move to shooting guard at times.
Mahmoud ElTaher is a 6-5 sophomore from Yorktown, and Amari Cooper is a 6-4 sophomore from South Carolina.
There will be a freshman on the Wakefield varsity roster for the third time in Bentley's 14 years, the coach said. Chris Warner is a 6-3, 175-pound wing player who helped his middle school team to an undefeated record last season.
"He's going to be really good," Bentley said.
Bentley said his projected starting lineup is Martin, Treakle, Parks, Nhial and Adams.
Offensively, Bentley said Wakefield will continue to play an up­tempo style. At the other end, Bentley said the loss of Tham as a shot blocker means the Warriors will have to play better perimeter defense.