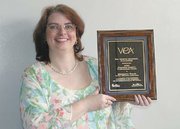 Margaret Panik, an instructional assistant at Bren Mar Park Elementary in Alexandria, has been named the Virginia Education Association's (VEA) Support Professional of the Year for 2008.
Panik has worked for Fairfax County Public Schools (FCPS) since 1998, when she was hired as an instructional assistant to work with students in grades K-5. During her 10 years at Bren Mar Park, Panik has served as the advisor to the Student Council Association, created the Baghdad Buddies program to support a school volunteer who was sent to Iraq, and become an advocate for her fellow instructional assistants and colleagues as a member of the Fairfax Education Association and the VEA.
"Margaret Panik began advocating for IAs within the first few months of her employment," says nominator Leonard Bumbaca, FEA president, who praised her for her efforts to educate principals and school communities on how IAs are partners in success for student achievement. He also credits Panik for starting the living wage campaign in FCPS.
Panik is the first ESP elected to office in the FEA. She also serves on the executive board of the VEA and as the ESP committee chair with that group. Recently, she was selected as one of 20 individuals in the country to serve in the National Education Association's Leaders for Tomorrow program.