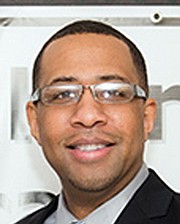 William Bates, who has served as principal at Herndon High School since 2009 and has worked for Fairfax County Public Schools (FCPS) for 15 years, has been named the FCPS 2015 Principal of the Year and is the recipient of the Washington Post Distinguished Educational Leadership Award.
Bates is known for his philosophy, "We are educators because we are Hopeologists. Our world needs more Hopeologists, because children without hope become children without a future." Putting that philosophy into practice, Bates has developed a mission for Herndon High that states, "All Hornets are capable of Success…No Exceptions!" This statement drives everything at Herndon, from the development of a professional learning community focused on student achievement via professional development for teachers, to the establishment of a curriculum support specialist who works with the instructional and assessment coaches to manage the school-wide data monitoring system used for academic intervention purposes. With his backing, Herndon High and the Herndon Pyramid have adopted the Kids at Hope program, a national program that inspires organizations serving youth to create an environment where all children experience success.
By improving school ownership and spirit, Bates has changed the culture at Herndon by way of a PRIDE (participation, respect, integrity, diligence, and empathy) matrix followed by students and staff. The word pride can be found throughout the school—on student planners, T-shirts, posters, and bulletin boards. It has helped build a spirited atmosphere at the school, one of FCPS's first high schools, that is evident at faculty cook-offs, athletic events, and performing arts events, as well as throughout the halls every day. He hosts an informal Chat and Chew quarterly for staff members to discuss ongoing issues, and encouraged the establishment of a staff walking club and after-school exercise classes.
BATES describes himself as a "servant leader who is committed to supporting student learning and developing others." Nominee Claire Silva says, "He believes in shared leadership and values the benefit of collaboration from multiple stakeholders." She adds that his administrative style offers many leadership opportunities for staff members while challenging them to seek strategies supporting the school's mission. Professional development at Herndon involves a day divided into four sessions: Portrait of a Graduate, Kids at Hope-PRIDE, progress monitoring program, and a book talk.
Bates engages Herndon students at a monthly pizza lunch where discussions range from bullying and suicide awareness, the physical conditions of the school, student perceptions of staff members, and expectations for academic achievement along with music selection at dances. He can frequently be seen chatting with students in the hall and attending extracurricular activities.
"It is with each child in mind that he has artfully created an environment conducive to learning, fostering creativity, and personal development," says teacher and nominator Stephanie Stewart. "With each initiative, Herndon High School has experienced much success in creating the desired portrait of a graduate paralleling the FCPS initiative of developing the whole child. Our students are well-rounded, creative, and compassionate individuals who are challenged and excelling while making a difference."
Bates "has proven to be an effective administrator with sound judgment and wisdom," says nominator Jonathan Frohm. "He is attentive, patient, forgiving, stern, approachable, creative, humble, humorous, and fun! …he allows the workers to do their work, offering guidance and advice when needed. I often seek his advice when presented with a challenge because I am confident in his wisdom. His confidence in his staff helps to build trust amongst his team."
Bates earned a bachelor of science degree in therapeutic recreation from Slippery Rock University, a master's in special education from California University of Pennsylvania, and an administrative endorsement in educational leadership from George Mason University.
HE JOINED FCPS in 1999 as a special education teacher at South Lakes High School, served as a LEAD administrative intern at Fairfax High School, and was named assistant principal at Centreville High School and Herndon High School before being named principal. Bates currently serves as president of the FCPS High School Principals Association.