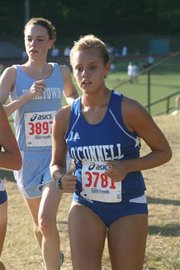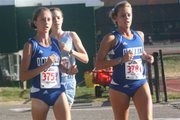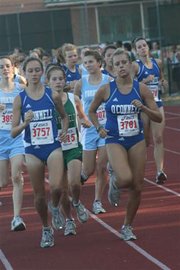 Bishop O'Connell's head cross country and track coach, Cindy Walls, brought her daughter to numerous races after she was born, so it was expected that Katie would run one day also.
"She is a great athlete," Cindy Walls said. "She is a very good softball and basketball player, but she runs because she loves it."
Running requires a certain kind of love. Who would run countless laps around a track, sprint hill workouts, or endure mud filled cross country courses just to have something to do? Katie Walls did all of that and it landed her a spot on the University of South Carolina cross country and track team beginning next fall.
Walls will study marketing at South Carolina's Moore School of Business.
While her personal records of 5:17 in the mile, 11:40 in the two-mile, and 19:27 in the five-kilometer are impressive enough, her family and friends say her leadership is her greatest quality.
Megan Fitzpatrick will be a senior at Bishop O'Connell next year and has trained with Walls for the past three years.
"Katie has done some fantastic things for the team," Fitzpatrick said. "Each year at our running camp she always organized special activities for the week to get our team ready for the cross country season."
Fitzpatrick also said that as soon as Katie Walls finished any of her races, she was always quick to run out onto the course or the side of the track to cheer for the rest of her teammates.
"I've learned so much from her," Fitzpatrick said. "She helped turn an individual sport into a team sport. Her personal accomplishments, to her, aren't as important as her team."
At South Carolina next year, Walls will run six-kilometer races compared to five-kilometer for cross country and will more than likely run the 5,000 and 10,000 meters on the track—a large leap from the 1,600 and 3,200 meter races, but she is ready for the challenge.
"I think I will like the longer distance on the track," Katie Walls said. "It will get to a point where you just need to stay tough because it will be easy to lose focus."
<b>STAYING TOUGH</b> is all too familiar to Katie Walls though. Breaking 5:20 in the mile is a large milestone for female milers. The 5:20 barrier equals 80-seconds per lap for four laps and Katie Walls has run slightly under that pace three times.
On the cross country course, Walls remembers racing at Great Meadows in The Plains, Va. during a heavy rain. It was the only race where Walls' mother told her just to go out, run safe, and have fun, but the recent O'Connell grad took a different approach and though the time may not have reflected the performance, she said it was one of her best races.
"When water is ankle deep, mud is everywhere, and you see someone taking a complete wipeout, it makes it challenging to run," Katie Walls said.
For the summer, Walls trains with O'Connell's boys distance coach Lewis Butler. She will progressively up her mileage to keep pace with South Carolina's summer workouts. Walls hopes to run a few road races this summer for fun and to stay in a competitive mindset, but most importantly she wants to stay healthy for the next stage of her career at the NCAA Division I level of distance running.