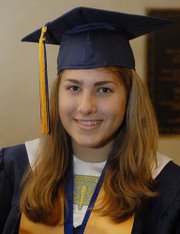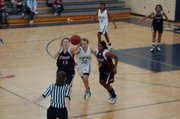 Natalie Dahlstrom didn't spent her freshman sports season inside a gym or on the field. Instead, after being diagnosed mysteriously with stress fractures in her back, the recent Washington-Lee graduate bounced between rest and physical therapy.
It wasn't where a motivated Dahlstrom wanted to be confined. And it didn't take long. Once healthy following a year-long hiatus, the 5-foot-8 brunette returned with a vengeance, eventually balancing volleyball, basketball and soccer with a demanding international baccalaureate curriculum.
"That's the biggest deal about Natalie is that she gets pounded down, but she gets up and keeps going," said Ava Dahlmstrom, Natalie's mother.
During her senior season, Natalie Dahlstrom wasn't without setbacks, starting in September when she was diagnosed with mononucleosis. Even though she felt healthy enough to contribute, she missed the first month of the season because fatigue would quickly set in.
The senior-laded team, with only two underclassmen, lost their first four matches of the season and eventually finished 7-11, good enough for fourth in the district.
But basketball was her better draw, even though the team failed to win a game during her junior season. Joining the varsity as a junior, she endured the miserable 0-22 season, but did gather individual accolades, winning the team's most improved award.
This season, armed with three capable coaches instead of the constant carousel that marred the previous two years, Natalie Dahlstrom, a co-captain, helped the Generals to a 6-19 record. A 50-48 victory over fifth-seeded Stuart in the district tournament ensured Washington-Lee's first regional berth in several years, but the season highlight was a 20-point midseason victory over Falls Church to halt the 36-game losing streak.
"It wasn't like we won by a point," Natalie Dahlstrom said. "We blew them away, which was pretty nice. It had always happened to us and I guess that was the game that turned everything around."
Natalie Dahlstrom capped her athletic career off with soccer, where she was a captain and voted the team's most valuable player. Unlike volleyball, Washington-Lee had a new coach and a young team, forcing Natalie Dahlstrom, the center midfielder, into a leadership role. The team bowed out in the semifinals of the district tournament, and then in the first round of regionals.
<b>THE 4.0-PLUS STUDENT</b> had to divvy up her time with IB classes, National Honor Society and Key Club, and along with three sports, Natalie Dahlstrom had little time to spare. But she wouldn't have had it any other way.
"It was really hard. I don't think I had a social life during most of these seasons," Dahlstrom said. "I would go to practice to get away from school. It was my one time where I could have a break and let my energy out. Then I would have to go home and study for tests. Sports were a big commitment, but it was a good commitment because it's something I really love doing so it wasn't painful."
She will attend Boston College next season and plans to major in education.
"I've always loved Boston," Natalie Dahlstrom said. "I applied not really thinking I would get in, but I applied and said, 'wow, I can actually go here.' It was pretty random, but I'm so excited."
As the youngest, Natalie Dahlstrom follows her brother Peter Dahlstrom, who played lacrosse at Ohio University and a sister, who attends college in Switzerland in traveling far from home when selecting a school
"She seems close, so oh gosh, all I have to do is jump in the car and drive 10 hours," Ava Dahlstrom said. "With her outlook, she's on to the next thing. She's so excited about it that you don't want to be sad."
For Natalie Dahlstrom, though, graduating from Washington-Lee hasn't quite resonated.
"I've been out of school for a week, and it really hasn't sunk in," said Natalie Dahlstrom, who will soon leave for a trip to Scotland, England and France with several Washington-Lee teachers." I haven't accepted it yet."