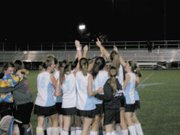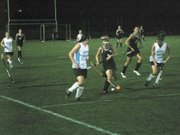 There's no telling what would have happened had the Yorktown field hockey team lost last Tuesday night's game against neighborhood rival Washington-Lee. With a perfect confluence of events — it was senior night for Yorktown's seven seniors, each team knew each other very well from growing up in Arlington, and whoever won would capture the National District regular season title — a loss could have been devastating for a young team that has overachieved this season.
But judging from the massive on-field celebration following Yorktown's 4-2 victory over the Generals, the Patriots don't have much to worry about for now. The win upped their record to 5-0 in district play and clinched the National District title with one regular season game to go.
"This year I was thinking this was going to be a rebuilding year and they have definitely taken it on and formed a team," Yorktown coach Rebecca Guy said. "And that's the number one reason we've done so well this season."
It certainly wasn't easy, though. In one of the more exciting games in the northern region this season, the Patriots jumped out to an early 2-0 lead in the first half thanks to the play of senior captain Chrissy Radloff, who assisted on the team's first goal and called her own number for Yorktown's second goal.
"If she has a good game, the whole team has a good game," Guy said before the game began.
But Washington-Lee refused to back down in front of a bigger than anticipated crowd at Yorktown. Junior midfielder Patricia Murray responded, cutting the Patriots' lead in half with just over a minute remaining in the first half. And with the momentum on their side to start the second half, the Generals evened the score after senior forward Suzanne Matyas fired a shot through the five hole of Yorktown's goalie.
Just two minutes later, though, Yorktown regained the lead for good off a goal from junior Hope Barrazotto. Junior Olivia Shipley sealed the deal with a late goal, and the Patriots accomplished what many thought wasn't possible for a team lacking in varsity experience before the season.
"This is something I always wanted, always dreamed about and it came true," said Radloff with tears welling up in her eyes. "It's amazing."
Afterwards, though, Guy was sure to point out to her team that this was likely just the first round in the Yorktown/Washington-Lee field hockey saga. With the National District tournament being held at Washington-Lee in two weeks, there's a very good chance these two teams could meet again.
It was a fact not lost on Generals coach Beth Prange as she walked off the field with her dejected team following the hard -fought loss.
"We'll win it when it counts," said Prange, whose team finished the season 9-6 overall.
Added Guy, "I said we'll probably see them in the finals because they are a great team and we're so close in proximity and it's a National (District) rivalry. But it was just so good to finish them off (tonight)."