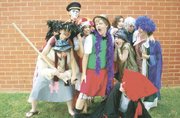 When it comes to children's shows, there's a general rule of thumb: If it comes from the mind of Chantilly High Theater Director Ed Monk, it's going to be funny.
Therefore, it's pretty much a given that his latest creative effort, "Mother Goose's Really Fabulous Fairy Tales!" will be a hit with area children. The shows will be presented Wednesday, July 9, at 3 and 7 p.m., and Thursday, July 10, at 3 p.m., in the school theater. Tickets are $5 at the door. For further details, see <a href=http://www.ChantillyHSDrama.com>www.ChantillyHSDrama.com</a>.
"'Mother Goose's Really Fabulous Fairy Tales!'" is a very silly play that the whole family will enjoy," said Monk. "Mother Goose has come to tell some of her most delightful fairy tales to all of the boys and girls."
However, they're unlike anything heard before. Mother Goose has a slight mishap, with hilarious results.
"Unfortunately, she bumps her head on some scenery and gets a little confused," said Monk. "As she narrates the fairy tales, she gets them a little mixed up. Hansel and Gretel wind up meeting Robin Hood and Sleeping Beauty and Rupunzel and Prince Charming and Darth Vader — and, well, who knows who else they'll run into before it's all over?"
The only way to find out is to attend the Chantilly Children's Theatre production of "Mother Goose's Really Fabulous Fairy Tales!" sponsored by the Chantilly Drama Boosters.