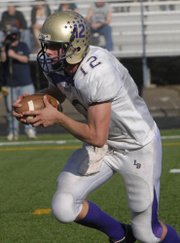 Two of Lake Braddock's senior stars are set to take their games to some of the biggest college stages in the country in the Atlantic Coast Conference (ACC). Shane Halley will take his talents to the University of Virginia to play baseball and Melanie Akwule speeds down to Georgia Tech to shine on the track and field team.
Both were notable athletes upon their arrival at Lake Braddock.
"About three-quarters through her freshman year, we were doing drills in the gym and the head coach at the time called me over to see Melanie and she was just booming out triple jumps," said head coach Michael Mangan. "I turned to him and we both knew she was going to be something special."
Halley also made an instant impression. His prowess and strength were also recognized early.
"He had a rocket arm and this was in ninth grade, he didn't even play quarterback that year, he was a wide receiver and a defensive back, but the following year he was starting at quarterback," said head football coach Jim Poythress.
In addition to the obvious athletic talents both Akwule and Halley put on display for the Bruins, each was lauded for their efforts and attitudes away from competition.
"[Shane] has a will to win that is rare. He always gave the best of his ability no matter what he was doing and as a senior really stepped up into the leadership role and took the team on his shoulders," said Poythress.
In addition to leading Lake Braddock to an 8-3 record on the football field last season, Halley was instrumental in the Bruins' baseball run this season. The team won its second Northern Regional title in three years and had a 20-game winning streak that did not end until the state semifinals.
"If we had a whole team of Melanies, we'd be a juggernaut easy," said Mangan. "She out works everyone. She's so disciplined and always the last one out of the weight room. She was always under control, capable and ready to go. She will very much be missed."
Akwule's discipline and work ethic enabled her to post outstanding career bests in the triple jump (038-10.50) and the 100-meter hurdles (14.32) among other events and that was good enough to catch the eye of the Georgia Tech Yellow Jackets. There, she will run and jump on scholarship when the next season comes around.
Even though dust has not yet had a chance to settle on their graduation robes, both Halley and Akwule are ready to move on and represent the Bruins on bigger stages and enter the next phase of their athletic careers.