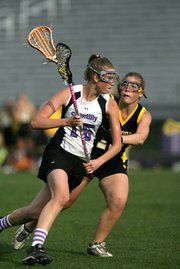 It's easy to understand while Chantilly graduate Christina Patten was voted as the "Most Athletic Girl" by her peers in this year's Chantilly yearbook. Patten, who grew up playing sports, played on an athletic team at Chantilly each season for all four years.
"Sports are in my family and so I have always liked doing activities and sports to keep me busy," said Patten. "I have tried every sport."
In the fall, Patten was a member of the field hockey squad. In the winter she took to the Chantilly basketball court as a member of the Chargers girls basketball team. In the spring, Patten finished up her busy school year playing girls lacrosse.
"The great thing about her is that she has created her own history," said her father, Joel, whose son Jake, 23, played football at Chantilly before joining the Virginia Tech football team. "It is hard sometimes when you have siblings in the school. She has done a great job creating her own."
This year, Patten was a key member of the Chantilly field hockey team that won the Concorde District and was an first team all-district member of the girls lacrosse team that went undefeated in the regular season.
"We'll miss her leadership as a senior as well as her upbeat mentality. She was always being positive," said Chantilly girls lacrosse head coach Michele Gates, who said that Patten wasn't the type of player that desired the spotlight. "She has always been a team player. She is just consistent. Sometimes that goes unnoticed, except by the coaching staff."
<b>EVEN THOUGH SHE</b> has graduated from Chantilly, Patten is not through with her athletic career. Following in her older brother's footsteps, Patten will travel down to Blacksburg to attend Virginia Tech, where she'll play lacrosse.
"I really already liked the school," said Patten, who said that being able to play lacrosse in college was an added bonus.
When asked what playing sports at Chantilly has taught her, Patten responded: "Leadership and commitment," before adding, "And exercising – obviously."