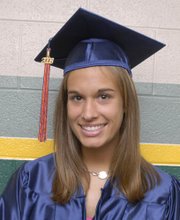 Brittany Klippstein ended her high school soccer career as one of West Springfield's most decorated athletes of the school year. This past season alone she was named to the first-team all-district and region teams, and was co-Player of the Year in the Patriot District.
Though Klippstein's talent led West Springfield to a of 12-4-3 record, head coach Kellie Mastrodonato said Klippstein's biggest impact came before the Spartans even played their season opener.
"This past season, Brittany really came into her own," Mastrodonato said. "One of the things that really made a difference for us was that we got a lot of our girls to participate in our strength and conditioning program. … A lot of that was Brittany. She was very dedicated to the off-season. I felt like we finally brought Brittany to her full potential as both a leader on and off of the field."
With Klippstein as one of the team's captains, the Spartans captured the elusive Patriot District crown by downing the defending state champions Lake Braddock in the semifinals, and handing South County its first loss of the season in the championship. The center midfielder finished the season with seven goals and two assists.
Mastrodonato said that while other area players may have had flashier statistics, Klippstein's ability to lead a team was rare.
"She was the quarterback, the focal point of our team," Mastrodonato said. "She got people involved and made people better soccer players. A lot of our success was because we were playing team soccer and much of that came from Brittany."
Klippstein credits her teammates, coaches and off-season training as reasons for her increased success on the field.
"We did a lot of stuff preseason with training and conditioning. … We were better fit for the season," said Klippstein. "You can't have one good player and be a successful team. Everyone on the team made a great effort."
While she might not have been the scoring threat opposing defenses keyed on each week, Klippstein's presence was always felt.
"She has a reputation for being pretty rough on the field," said Erika Gleason, a longtime friend and teammate. "I feel like a lot of girls from other teams are afraid to go up against her. She didn't mean for it to be like that, but that's just the player that she is. She just sees the ball and anything that gets in her way is going down."
Klippstein will play at Lynchburg College this coming fall. She hopes to contribute early to a team that went 19-4-3 last season and 8-2-1 in the Old Dominion Athletic Conference.
"I really liked the small school atmosphere and the coach is a really great guy," Klippstein said. "I really have to work hard. You can't just go into a school and be like, 'Yeah I am going to play.' This summer I will be doing a lot of training."
Mastrodonato is confident that Klippstein will find success in the college ranks next season.
"I think Lynchburg is very fortunate to get someone like her," Mastrodonato said. "Brittany is going to be able to go in and contribute very quickly. She is only going to get better."