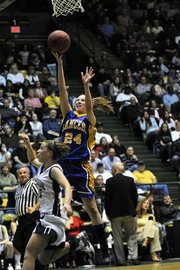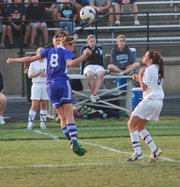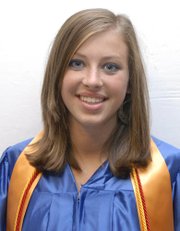 As good as the Northern Region championship game was for recent Lee graduate Brittany Gropp, it was equally as bad four years prior. Sure, she fondly recalls her four three-pointers and complete dismantling of W.T. Woodson at George Mason University's Patriot Center, giving the Lancers their first-ever basketball regional title.
But she also recalls — a little less fondly — when she was an awkwardly coordinated freshman point guard for a team that rarely contended. Armed with seven freshmen in Rudy Coffield's second year, Lee was a district punching bag.
For Gropp, the polar emotions are perhaps a microcosm of the real world, when sacrifice and hard work eventually pay off, even if tangible signs are few and far between. Maybe that's why Gropp, who will enroll at Virginia Tech in the fall, is the Lee valedictorian.
"As a freshman, I was god-awful. My nerves got me every time, but even though I was point guard and hated it, I knew I needed to keep playing for my teammates. I actually improved through the season. If I hadn't been through out into the fire, I don't think I would have been as I was this year."
Coffield joked after the season that it was his Five Year Plan, even announcing his retirement prior to the end of the season.
"They all came from middle school together, so they knew each other and it was a close— probably one of the closest — groups I've had in my 25 years," Coffield said last week.
For Gropp, who was probably an even better soccer player, success on the hardwood meant leaking out on the fast break, and hitting open shots.
"She's a soccer player by heart," Coffield said. "I really wish she had devoted more time to basketball, she probably would have got a D-I scholarship somewhere. She just has that natural knack about the game, being around the ball and being in the right place at the right time."
<b>LAST SEASON</b>, Gropp was burnt out on soccer, after being named to the first-team all-region team. She had spent her spring weekends and summers on a competitive club team, but wanted a change. So she decided to start training with the field hockey team, and although she confessed, "it was a disaster" originally, a few months later she was installed as a starter.
But Gropp was first and foremost a center midfielder, and after Brent Leiba became head coach two seasons ago, she flourished. This past season, she again was a first-team all-region selection in leading Lee to a 10-5-1 record, including a 3-0 pasting of defending state champion Lake Braddock.
"We enjoyed the heck out of going to all the games, and being with the other parents, it was just a great experience for us throughout her whole sports career, from when she first started through high school," said Donny Gropp, Brittany's father. "We're very, very, proud of the whole high school experience for her."
His daughter always kept a disciplined schedule managing a rigorous course load with after school activities. She rarely went to bed before 11 a.m. and sometimes had to stay up until past 2 a.m. to take care of the schoolwork.
"Well, to be honest I was amazed that she found the time to do everything, and kept her school work like it should be, because that was always the priority," Donny Gropp said. "She enjoys the good times a lot more when she knows she's taken care of her responsibilities."
Brittany Gropp, the youngest of three, was accepted to Virginia Tech in December, and may want to major in communications. If her high school basketball coach has any inkling, he'd bet on his sharpshooter being successful in any endeavor.
"She works hard at doing well," Coffield said.