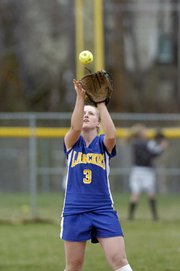 <b>Coach</b>: Keith Tasaka, 14th year
<b>2007 Record</b>: 12-9, 9-5 Patriot District
<b>Season Ended</b>: Lost to Hayfield in the first round of the district tournament.
<b>Key Losses</b>: C Aurora Salter, P Alee Beans, 3B Amanda Friday JR
<b>Key Players</b>: P/SS Jordan Cox JR, RF Amber York SR, OF Rachel Hudgens JR
<b>Quotable</b>: "I think we're going to be on the bottom end of the district if I really look at it realistically. Our goal and our game plan is that we're going to start off slow and then by the end of the year. Hopefully, we'll be able to make improvements." — Keith Tasaka, Lee head coach
<b>Outlook</b>: Involved in coaching for 22-plus seasons, Lee softball coach Keith Tasaka has dealt with it all. However, even the most veteran of even-keeled coaches can be surprised.
Tasaka has coped with graduation before. After losing seven seniors, three of whom were first-all-district selection, he wasn't expecting the season to be fun.
But Tasaka's extra attrition, including losing four underclassmen for various reasons, nearly blindsided the most tenured softball coach in the district.
"You usually expect one not returning," said Tasaka. "In all the years I've coached, I've had one that didn't return here and there, but this is a weird thing where it's starting to get to the point where kids are getting pulled in 10 different directions."
At least Tasaka understood would-be senior Amber Friday's plight. As the incumbent third baseman, Friday would have been a huge cog in the Lancers' march to avenge last season's heartbreaking loss to fifth-seeded Hayfield and return to the region tournament.
Friday, who has signed a volleyball scholarship to attend the University of Tennessee, elected to stay with volleyball instead of wielding an aluminum bat this spring.
"She had other opportunities, so she went that way, and that's fine," Tasaka said. "But a couple of the other kids opted to do other things."
Instead of having a solid returning base, Lee has just five returning players, three of whom have game experience.
Lee will depend on junior Jordan Cox, who will rotate between shortstop and pitching ace. Cox was named to the second-team, all-district as a sophomore. This year, her younger sister, a freshman, will joined her on the varsity team.
Three junior-varsity players moved up, while six girls without any experience in the program, will provide depth.
"I've told them everyday that this is a learning experience." Tasaka said. "We're definitely a work in progress this year."