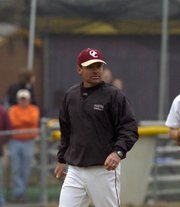 <b>Coach:</b> Scott Rowland
<b>2007 Record:</b> 23-4
<b>Key Losses:</b> P Eric Cantrell, OF Mark Stier, OF Brandon Padula
<b>Key Players: </b>C/2B Keith Werman, SR; SS Alfredo Rodriguez, SR; P/INF Kevin Wager, SR; P Bret Williams, SR; P Bart Reese, SR.
<b>Quotable:</b> "It's not like fishing in a bowl with no fish. It is going to be an open competition." — Head coach Scott Rowland on filling the holes left by graduation.
Outlook: For the first time since back-to-back season in 2001 and 2002, the Oakton baseball team enters the season as the reigning Northern Region champions.
"It feels good," said head coach Scott Rowland. "It doesn't mean anything now, but it still feels good."
The Cougars bring back a wealth of experience around the infield and on the mound, with seniors Alfredo Rodriguez and Keith Werman entering their fourth year on the varsity squad and anchoring the Cougar defense at shortstop and catcher, respectively. Three senior pitchers, Kevin Wager, Bret Williams and Bart Reese will compete for the job as staff ace – a spot made by the graduation of Eric Cantrell.
"They didn't have to be the main guy last year," said Rowland of his three seniors. "Hopefully, one of those guys will step up and be it."
Werman, last year's Concorde District player of the year, has started the season at second base, after spending three months in a back brace due to wear and tear. Rowland said that Werman will slowly work his way back behind the plate.
"He is a great catcher but he is just as good at second base or shortstop," said Rowland. "He can play a number of positions and be the best in the region at them."
Getting Werman back at catcher will be a big benefit to the pitching staff, however, as the senior didn't allow a pass ball at all last season.
Since 2000, the Cougars have won three region titles, the best mark in the region. Rowland's squad has also been tapped as an early favorite to repeat, ranking No. 1 in the Northern Region Coaches Association Preseason Top Ten poll.