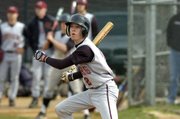 The last time that Oakton senior catcher Keith Werman played Madison, a 2-1 win in the 2007 Northern Region semifinals, he tweaked his back swinging at a pitch. After a summer of discomfort, Werman took a little time off from baseball, but the problem persistent. An August trip to the doctor landed Werman in a back brace for four months.
"[I would] go to school, go home and sit on the couch. You can't do anything. I was straight up, couldn't move," said Werman of his back cast.
It is safe to say Saturday's game against the Warhawks went a lot better. Led by Werman's 3-for-4 hitting performance with three runs scored, a run batted in and a stolen base, the Cougars blasted their neighborhood rival, 12-3.
"That guy is always good," said Madison head coach Scott Rowland of Werman. "What you saw from Keith today, that is what we see every day in practice, that is what we see every game. He is just a great player."
<b>WERMAN'S BATTERY MATE</b>, senior left-hander Bret Williams was dominant against the Warhawks, allowing three hits and two runs in five innings with four strikeouts.
"Big game players play big in big games," said Williams. "We came and played big."
Williams held the Warhawks, who scored double-digit runs in three of the previous five games, scoreless through the first three innings and responded to a two-run fourth with a 1-2-3 inning that featured two strikeouts.
"Brett is a competitor," said Rowland. "Last year he was a first baseman that pitched, this year he is pitcher that plays first base."
Senior Bart Reese pitched the final two innings, allowing one run off of one hit while striking out two.
"They hate us and we hate them on the field. To come out and put that on them, it feels really good," said Williams, whose Cougars (6-1) lost to Madison (4-2) in their regular season meeting last year, 7-5, before ending their season in the Northern Region tournament last year. "They wanted to come play us and beat us [after what happened last year]. The scoreboard speaks for itself."
<b>THE COUGARS JUMPED</b> out to a 6-0 lead using any method possible. In the first five innings, the Cougars racked up eight singles, three sacrifice bunts, three walks and two stolen bases.
"It is not just like we get out here and do it," said Rowland of manufacturing runs. "We practice a lot at it. When your team buys into it, it is a great way to play because you aren't always going to hit. Some days the bats are going to be silent."
Saturday wasn't one of those games, as the Cougars put an exclamation point on the game in the seventh with a five-run barrage.
"They say that it is just a spring annual game, but this is the biggest rivalry in the Northern Region, without a doubt," said Williams.
Added Rowland: "I don't know if it was a statement game, but it is always a big game for us. We wouldn't play if it wasn't a big game. I think that it brings out the best in both teams. Today was our day."