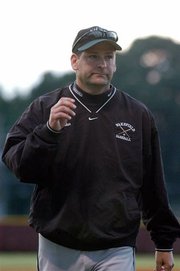 <b>Coach</b>: George Baker, 9th year
<b>2007 Record</b>: (4-19, 3-12 National District)
<b>Season Ended</b>: Lost to No. 2 seed Edison in the district tournament.
<b>Key Losses</b>: P George Johnson, SS Adam Webster, C Joe Reed
<b>Key Players</b>: 1B/3B Darian Holmes SR, P/SS Mike Edwards SR, CF Joshua Jones SR, LF Matt Blitz JR, P Sam Kealey SO
<b>Quotable</b>: "We're not expected to do very much. We have a very young team with only three seniors. We lost a lot... We're probably in the middle tier. We have a lot of jayvee guys that are going to have to get used to the varsity pitching." — George Baker, Wakefield baseball coach
<b>Outlook</b>: Wakefield head coach George Baker is used to disguising weaknesses with strong starting pitching. He may be able to do the same thing this season, but with No. 1 pitcher George Johnson and all-district catcher Joe Reed both departed to graduation, concealing limitations, especially on the mound won't be as easy.
"We have young pitching staff with not very many experienced arms like we've had in the past," Baker said.
After Johnson, who threw in the mid-80s and is currently at Gannon University, left the team midseason, the Warriors struggled mightily to find their groove. They made a quick exit to second-seeded Edison in the first round of the district tournament.
It was in that game that Mike Edwards, a backup pitcher and normally the starting shortstop ripped his right ACL. The senior tri-captain has rehabbed and should be ready for the start of the season. Baker will rely on Edwards' smooth glove to give him some help defensively, which is going to have to be a team strength for Wakefield to be successful.
Darian Holmes, a 6-foot-3, 245 pound senior and tri-captain, senior centerfielder Joshua Jones and junior leftfielder Matt Blitz will also have to shoulder most of the burden at the top of the batting order.
"[Hitting is] going to be the real downfall," Baker said. "The first five are real solid, but it will drop off after that. There are guys who just aren't very experienced and haven't seen the fastball at the varsity level. It's going to take a lot of timing. Once they get their technique down, they won't have to guess as much."
Baker, in his 9th season as head coach, took the Warriors to the district championship in 2003 and 2006, but has come short of winning the school's first-ever National District title.
"All we have to do is improve and improve and compete for the district championship by the end of the year," Baker said. "Winning the district championship has always been our goal. That's what we try to fight for."
Baker is still remaining optimistic despite drawing lesser numbers at tryouts than Arlington rivals Yorktown and Washington-Lee.
"This is the best group of kids I've had with respect to not having a superstar," Baker said. "It's a team that works hard and get along real well. No one is out for themselves. They're a real hard-working group."
The team will travel over Spring Break to a four-day tournament near Cocoa Beach, Fla. to get some much-needed game experience.
"That learning curve is way down right now, but by the end of the year, I think we'll be a pretty good team," Baker said. "Talent-wise, they're a little bit down, but their talent will get better as they learn and learn."