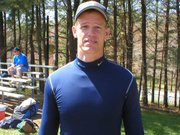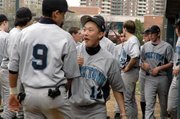 <b>Coach</b>: Mike Allen, 11th year, (135-98)
<b>2007 Record</b>: 14-9, 10-2 National District
<b>Season Ended</b>: Lost in first round of regional championship to Langley.
<b>Key Losses</b>: P/SS Mark Murray, C Mike Serpa (three-year starter)
<b>Key Players</b>: P/2B Kyle Toulouse JR, SS Zach Madison JR, 1B Brady Rall, SR
<b>Quotable</b>: "We'll generally throw strikes. The No. 3 hitters will always probably be okay against us, but we'll get a lot of the other guys out…Our biggest challenge is a tough out-of-district schedule, If we're fortunate to make the region, there won't be any surprises because we've already played at that level." — Yorktown head coach Mike Allen
<b>Outlook</b>: After two substandard seasons, Yorktown bounced back last season, with a winning record and 10-2 district record in to win the regular season. But the Patriots, led by seven-win pitcher Mark Murray, lost in the championship to Loudoun Valley, who has since departed the National District.
The Patriots are hoping they can continue their recent success under Mike Allen, who begins his 11th season and was named Northern Region Coach of the Year in 2004. Yorktown won the district tournament title in 1996, 2000 and 2002 and went to regional semifinals in both 2003 and 2004.
"The one difference from those teams is that I knew my catcher going in," Allen, a three-time district coach of the year said. "Hopefully, we can find something at the position, which is some ways is the most important one. And then finding a real No. 2, we don't have a lockdown type of pitcher."
Junior Kyle Toulouse, one of only two sophomores to play on varsity last season, will take over the No. 1 pitching slot. Senior pitcher and right fielder Danny Johnsen, the closer last season, will likely take the No. 2 role, but a number of candidates could usurp him.
"We have a lot of guys that we have to find out about," Allen said. "We don't really know."
Even with Yorktown's need to replace three-year starter Mike Serpa behind the plate, the district's coaches seem to have formed the consensus that Allen has the class of field, returning much of the core from last season.
"I think Yorktown has to be the favorite because they have a lot of returners," said Wakefield head coach George Baker.
In addition to Toulouse and Johnsen, the Patriots return three starters, but will be missing their four-year starting centerfield for the next three weeks. Steve Kouril, normally No. 2 in the batting order, broke his hand in the preseason.
"I think we'll be okay there defensively," Allen said. "But losing his bat there at the No. 2-spot, that's pretty significant."
Michael Demsky, who mostly filled the designated hitter role last year, will play third and be vital for generating runs, as will junior shortstop Zach Madison and senior first baseman Brady Rall.
"I think we'll hit fairly well," Allen said.