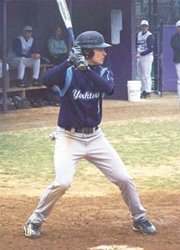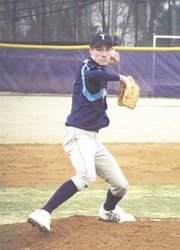 It sure didn't seem like an appropriate time to be playing baseball, not with a bitterly cold wind, slight drizzle and temperatures dipping into the low 40s. But as the Yorktown baseball team took the field last Friday afternoon for its season opener against Chantilly, there was no better moment to show its mettle after a magical 17-game winning streak last year came to a sudden halt.
The Patriots stormed to the 2008 National District regular-season and tournament titles, becoming the first team in National District history to go undefeated, winning 17 straight, and compiling an 18-4 record along the way. But the Patriots saw their year end in disappointment with a first-round loss to Robinson in the Northern Region tournament.
Against Chantilly — predicted to be one of the best teams in the Concorde District this season — Yorktown finally had its chance for a measure of redemption. And through four innings Friday, the Patriots looked poised to finally make their mark outside the district, deadlocked in a scoreless tie.
But junior starting pitcher Dean Johnson tired in the fifth, giving up back-to-back home runs to Chantilly's Matt DeWitt and Brian King and the Chargers held on for a 5-1 victory. Though the loss put a damper on an already gloomy afternoon, it did nothing to deter the optimism surrounding Yorktown baseball this season.
"We're expecting to win the National District again," said Yorktown's No. 1 starting pitcher and second baseman Kyle Toulouse. "We really want to contend in the region because after losing in the first round, we're trying to prove something this year."
If the Patriots are to replicate their successful season, it will have a lot to do with Toulouse. Already the team's ace, the Division-I caliber star will be counted on for more offensive production as the team's leadoff hitter this season with the graduation of Yorktown's entire outfield from a season ago. Coach Mike Allen also expects shortstop and clean-up hitter Zach Madison and designated hitter Jordan LaBella to help overcome any sort of power outage offensively. He blamed the wintry weather for his team's subpar showing at the plate last Friday.
"I schedule teams like this in the beginning of the season to challenge us," said Allen. "Today we just watched too many balls go by, but I think we'll be all right."
<b>OVER AT WASHINGTON-LEE</b>, coach Doug Grove thinks he may have a team capable of dethroning the reigning champs if everything comes together as planned.
The Generals could have the most potent offense in the district led by center fielder/first basemen Tom Edwards and junior catcher Jeremy Seipp, both of whom hit above .300 last season as the team earned a berth in the Northern Region tournament after amassing an 11-12 record. Grove said he also expects contributions from outfielders Hector Campos and Christian McGillen and third basemen Will Brower.
In what should be a trend for the Generals this season, W-L hit the daylights out of the ball in a 9-8 season-opening loss to Fairfax last Friday. McGillen had a huge homerun in the sixth inning, while Brower had a game-tying RBI double in the seventh, but it was all for naught thanks to five fielding errors.
W-L's pitching staff is fairly inexperienced with four underclassmen and just one senior, but Grove expects them to get better as the temperatures warm up. It's a new concept for the coach, who hasn't had this much depth in the batting order in quite some time.
"This year we're gonna have to hit," he said. "And I think we will, our lineup is pretty deep."
Still, even if things go according to script, Grove and his team are fully aware to get atop the National District, they must first get by Yorktown. They'll get their chance next Wednesday when the two teams meet for the first of two match-ups this season.
<b>WAKEFIELD MAY HAVE</b> gone 5-15 and lost in the first round of the National District tournament last season, but that doesn't mean there's no optimism surrounding coach George Baker's team.
The Warriors are just a year removed from making it to the district finals in 2007 and get back junior shortstop Matt Vlitz — a freshman standout on that finalist squad — after he missed much of his sophomore campaign with a broken ankle. Baker expects him to hit around .350 and cement himself as one of the best players in the area.
Catcher Ryan Kawaki and second baseman Matt Heckler will also help solidify the heart of the order that has proven potent in the early going.
But if the Warriors' 20-15 season-opening loss to Freedom is any indication, the Warriors will have their fair share of struggles on the mound. With just four hurlers on the roster, Baker is counting on pitchers Remy Tucker and Sam Kealey to hold down the fort and not give up too many walks.
"The one thing about this team, I've been coach for 10 years, and they're the closest bunch I've had," said Baker. "They just don't give up, they're fighters, they believe in the coaching staff, and they believe in each other."
<b>O'CONNELL MIGHT HAVE</b> the most experienced team in the area this season. Coming off a 14-10 record a season ago in the tough WCAC, the Knights return five seniors who garnered all-conference honors of some kind last season. Leading the charge will be senior shortstop Zach Tessier, an all-conference second-team selection last season committed to play baseball at High Point next year.