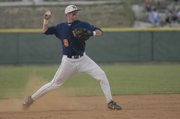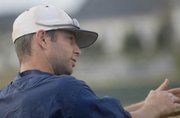 <b>Coach</b>: John James, fourth year (43-28)
<b>2007 Record</b>: (14-11)
<b>Season Ended</b>: Lost to Oakton 7-0 in first round of the region tournament.
<b>Key Losses</b>: 2B Josh Brown, 3B Brian Deering, 1B Cameron O'Berry
<b>Key Players</b>: P/OF Mike Kent JR, SS Bryn Renner JR, CF Jeff Haeuptle SR
<b>Quotable</b>: "We think we'll be a pretty competitive team. We have several key players returning from last year's team, so we'll try to build on that experience. Our goals of course are to always to win championships, but the bottom line is all we can do is work as hard as we can and let the outcome take care of itself." — John James, West Springfield head coach
<b>Outlook</b>: John James, the fourth-year West Springfield coach won a Patriot District title in his first season. In order to replicate the early success and uproot South County, the defending, two-time district tournament champions, the Spartans will have to rely on five returning seniors and a couple of superstar juniors.
At the plate, junior shortstop Bryn Renner hit .333 with three home runs, 23 RBI and 13 stolen bases last spring.
On the mound, standout junior pitcher Mike Kent returns after fanning 41 batters in 44 innings to post a team-low 1.43 earned run average last season. The right-hander is the lone returning all-district selection and is expected to fulfill the team's top pitching role.
While the Spartans maintained the majority of their roster, they will have to cope with the graduation of seven players, including the core of their infield in all-district second baseman Josh Brown, third baseman Brian Deering and first baseman Cameron O'Berry.
To sprinkle some early experience, West Springfield will travel to Orlando, Fla. over Spring Break and then will take on Robinson in a non-district tilt before beginning the 14-game district schedule.
In the recently released Northern Region coaches' preseason poll, West Springfield was picked to finish ninth, while district foes Lake Braddock and South County were slated to be behind Oakton, the defending region champs at the No. 2 and 3 slots.
This season marks the 10th anniversary of West Springfield's 1998 state championship. Senior right-handed pitcher Mike Crisci went 8-0 with a 0.57 ERA, while junior pitcher Joe Saunders went 10-0 with a 1.05 ERA. Senior catcher Jason Lee also provided longtime head coach Ron Tugwell, who also won a state title in 1991, a significant lift at the plate.