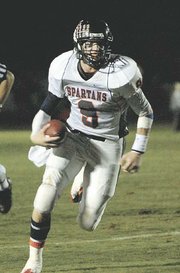 At the beginning of this football season, it appeared as if the West Springfield Spartans could win one game and they'd advance to the Virginia AAA state championship.
With all of the hype surrounding the fact that 15 starters returned from last year's team that reached the Northern Region title game, it seemed that all West Springfield needed to do was to not get lost driving to the field.
But, as much fun as crowning a champion after one game could be, the Virginia High School League requires teams to play at least 10 of them — each more important than the next.
Through that 10-game schedule, West Springfield (7-3) has endured a two-game losing streak to start the season, as well as injuries to its quarterback, running back and one of its linebackers. Still, after that brutal 10-game slate, the Spartans have the same goal and opportunities as they started with.
With a win over fifth-seeded Woodson on Friday in the first round of the Northern Region playoffs, the No. 4 Spartans will move one step closer to replicating that 2007 title game appearance.
"We've had some setbacks along the way, but any season is going to be like that," said North Carolina-bound quarterback Bryn Renner. "You're going to have ups and downs, and I think we've responded very well."
The season started with back-to-back losses to Division 5 powers Stone Bridge (10-0) and Edison (10-0), who've combined to beat opponents by an average of 34.8 points per contest. From there, West Springfield gathered itself and reeled off five straight wins, two of which that came against Patriot District competition.
During practice before a win over Hayfield on Sept. 19, senior linebacker Scott VanBuren tore the anterior cruciate ligament in his knee. VanBuren tried to return two weeks later but without any strength or mobility in his knee, season-ending surgery was required.
In a 52-42 win over eighth-seeded South County (6-4) on Oct. 10, Renner sprained his left shoulder. It's not his throwing shoulder, but coach Bill Renner, Bryn's dad, still kept his son out of the following Saturday's game against T.C. Williams.
<b>TO MAKE MATTERS WORSE</b>, West Springfield lost starting tailback Brandon Bailey with a broken left hand during the same South County game. The Spartans stumbled against the Titans, suffering an 18-16 upset at T.C. Williams while Bryn Renner and Bailey watched.
While Bryn Renner's shoulder is "good enough to do the job," it would be a stretch for Bailey (832 yards, seven touchdowns) to make it back this season.
"We've had to plug some people in because other guys have gotten hurt, and they've played really well," said Bill Renner, referencing junior running back Dan Collins (791 yards, nine touchdowns), who has taken over for Bailey and most recently rushed for 269 yards and three touchdowns during a Week 10 win over Lee.
"There are a lot of guys who were with us last year at the regional final and I've seen more of a maturity in this group than a lot of other groups because of that experience," Bill Renner said.
Through all of the possible setbacks, West Springfield has moved forward. Against Woodson on Friday night, a team that has scored an average of 30 points per game this season, the Spartans don't feel the need to slow down.
"I think we'll run our scheme like we usually do, just sling it around the field," said Bryn Renner, who has passed for 2,247 yards and 29 touchdowns this season and has only been intercepted three times. "Some of our key guys have missed games, but we've just persevered. We're right where we want to be, sitting with the No. 4 seed and trying to make a run."