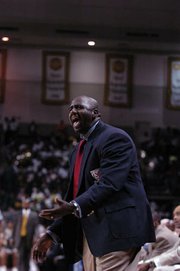 Ben Dickinson got some interesting looks when he walked into an opposing gym for the first time. As the team's lone freshman varsity player, the shaggy haired 6-foot-7 forward was dressed in a blue blazer, like the rest of his 14 teammates.
But what was in Dickinson's hands often caused peculiar looks — if fans even noticed. Borrowing a page from Virginia Tech's football team, he carried a red toolbox to every game, signifying T.C. Williams' season-long "blue collar" staple.
The toolbox is yet another motivational tactic from third-year Titans head coach Ivan Thomas, who won his first AAA Virginia state championship with a 70-57 victory over Bethel High School on Friday.
"I knew what my gift was early on in life," Thomas said in the team's locker room on Tuesday. "My parents told me I was a leader. My coach told me too … it's what I've been blessed with."
Thomas has dual master's degrees — one in guidance and counseling and another in educational leadership. He's written two books, with the first entitled "45 Tips to Discovering Your Child's Talent" set to debut in April. The second, also produced by Arthur House publishing, is called "Listen to Me," a compilation of 100 essays from teenagers.
So Thomas applied his learned techniques to coaching, using a variety of topics to inspire his team to the state title.
Educational quotes, a handwritten T-shirt and a hand signal — almost nothing was inspirationally off-limits.
<b>ON THE WALL</b> in the team's red, white and blue locker room is a time card, with an individual slot for every player. When one of the Titans checks in for practice or an open gym during the off-season, he punches his time card. That way, Thomas has a way to tangible way to record how much effort his team is constantly contributing.
"We've worked a heckuva lot," said junior guard Edward Jenkins. "We've put numerous hours in the gym in the off-season."
Travis Berry, the team's leading scorer, has a card that is borderline illegible because of the constant ink overlapping itself. It's the same for nearly the entire team.
The toolbox was another brainchild of Thomas. He also bought a foreman's hard-hat, telling his team that they needed to think and have a workman-like blue-collar attitude. Each player signed the hard hat at the beginning of the season to further promote team unity.
Thomas, who cited W.E.B. DuBois and Martin Luther King, Jr. as inspirational orators he enjoys studying in his leisure time, put his Region Coach of the Year Award in the dented and scratched container, as well as patches from the Patriot District championship game. There were extra time cards, a jump rope and other hodgepodge items that hold sentimental merit to the 15-man team.
<b>THOMAS CAME OVER</b> from Edison three seasons ago. He carried in his charisma and immediately overhauled the program, getting the fresh faces to cater to his new system.
"When I got here, it was an individual culture," Thomas said. "The starting line-up meant so much. It meant everything. We wanted to destroy that culture and get a team … A team surrounded by a vast number of scorers and a vast number of defensive guys that function on one heartbeat."
Thomas cited flak when he kept three freshmen on his initial varsity team. Those players, which included juniors Marcus Via, Dominique Copeland and Jenkins helped to form the core of this season's state championship squad.
"The team we had last year was very talented, but this year, we were a team," Thomas said. "We had great chemistry and they like each other."
So the state championship — the school's first since 1977 — is an intrinsic reward for the players like Jenkins, who made it the team's mission to bring back the title to the Northern Region for the first time in 27 years.
"We came out here with no big-name players," said Jenkins, who had 22 points in the state championship. "We won states. That was our biggest goal. We came together, through thick and thin … we achieved our goal."
Thomas felt content that his team was rewarded for its hard work, but cautions that the process wasn't always rosy.
Ryan Yates, a sophomore forward, was put into the starting lineup. After Thomas continued to demand excellence from his 6-foot-5 defensive stopper, he sensed that Yates needed some extra reassurance.
"Early on, it was a struggle for him to understand what I wanted from him and why I was so hard on him," Thomas said.
But in the end, he knew his team would be rewarded.
"It feels good for those kids," Thomas said. "Those kids are part of this community and bring the title back home for them. It gives them something to celebrate and something to hold on to and say, 'hey, we're state champs.'"
<b>FROM THE SEASON OPENER</b>, Thomas believed his team could win the state championship despite the graduation of two Division I players. So he created the diamond-like philosophy, which resonated with the fans through a simple hand gesture. The cheerleaders and players alike mimicked the hand signal with open palms during pre-game warm-ups.
"Well, diamonds are forever and so, what they're saying with that is … we created a dynasty there at T.C.," Thomas explained, mimicking the hand signal with open palms. "We are 52-0 in the Patriot District. We haven't lost a game in three years. We are the best team in Northern Virginia over the past three years, make no doubt.
"Diamonds are forever and so will our team at T.C. We will keep doing this — working hard every day and every year — and the dynasty will continue … you can't destroy a diamond and you can't destroy our team and our effort."
The dynasty was incentive to continue the Patriot District dominance and to not overlook the details.
"What we talked about was a dynasty of hard work in that every year, we want to produce one of those teams that will defend you and play hard," Thomas said. "No down years in terms of effort, consistency and I think that's what the dynasty really means."
<b>THOMAS CHOKED UP</b> with what senior forward Anthony Winbush said immediately after the buzzer sounded.
"He told me he had my back," Thomas said.
Another motivational tool, geared specifically for the playoffs, the Titans signed a T-shirt that Thomas wore underneath his suit. The thinking is that each player and coach has each other's back, no matter the circumstance.
"One vision, one team," Thomas said. "A team won it."
Just three games into the year, though he knew these Titans would be different.
"I knew this team was different after the Edison loss," Thomas said. They sat quietly in the locker room. They didn't blame anybody or anything except themselves. They said, 'we have to work harder, we can't take anything for granted.'"
For Thomas, personally, the realization of a goal meant much more.
"This was really sweet," Thomas said. "I'm a man of faith and He blessed my family and my team family to come through some tough things. I thought that's what you saw the last three games. You saw a team that believed in not only each other, but something higher."