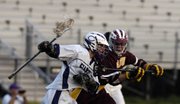 <b>Coach: </b>Kevin Broderick
<b>2007 Record:</b> 9-8
<b>Key Losses:</b> G Matt Miller, D Mike Posiak, D Matt Puschell, D Zack Krotman, D Mike Cain, M Pat Linde, M Dan O'Keefe, M Tyler Brandenburg.
<b>Key Players: </b>A/M Corey Aferiat, SR.; GK Derek Kegerreis, JR.
<b>Quotable:</b> "Our goal is to be better one day at a time. Let's just try to perform each game and play a better game than the day before. The kids are taking that to heart." — head coach Kevin Broderick
<b>Outlook:</b> Chantilly head coach Kevin Broderick is trying to keep a level head. After a fourth-place finish in the Concorde District last year, the Chargers have been blessed (or cursed) with some preseason hype, taking the top spot in TripleEDGE Lacrosse's preseason coaches poll.
"I think that Chantilly is the most put together of all the Concorde [District] teams," said Oakton head coach Tony Gray. "I think that they are a really good team that is going to surprise a lot of people."
Broderick isn't convinced.
"We don't believe in any polls," he said. "We are in transition. We are a work in progress. We hope that by the end of the year, obviously, we are better than we started."
The Chargers have started out in good shape, however, winning their first three games against West Springfield, Thomas Jefferson and W.T. Woodson by a combined score of 35-11.
Again, Broderick isn't convinced.
"What we do in the first two games of the year doesn't mean anything, it's what you do in late May," he said.
At this point in the season, Broderick is just hoping to be able to compete in the toughest district in the state.
"When you look at Robinson and Oakton, you are talking about the last five state championships from the [Concorde District]," he said. "We have a very tough group and we think that now, with the leadership that we have, hopefully we can try and compete with these guys."