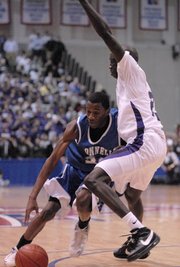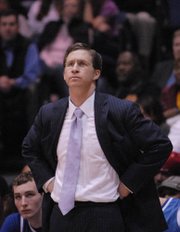 Bishop O'Connell's Jason Clark briefly let out some pent-up emotion when his Knights came up short in the Washington Catholic Athletic Conference tournament title game. But after O'Connell's third straight tournament title opportunity, Clark had little to hang his head about.
The senior guard capped his high school career with 15 points and nine rebounds in a 49-43 losing effort against Gonzaga in the 48th annual Alhambra Catholic Invitational Tournament Saturday evening at Frostburg State University. It was the Knights fourth loss to Gonzaga this season. The Eagles capped a 34-1 season and won the WCAC and City Title.
O'Connell lost by eight points in front of 5,000 fans at American University's Bender Arena during the WCAC championship. However, less than three weeks later, they had their best opportunity to avenge the previous three losses.
With the score tied in the fourth quarter, Gonzaga nailed a late three-pointer and scored five points over the past two minutes to secure their second-ever ACIT championship.
The Knights, however, were without 6-foot-10 center Frank Ben-Eze, who was hampered all season by a stress fracture and later suffered an ACL injury in the WCAC playoffs.
The frontcourt void left Clark as its lone senior starter and forced O'Connell started four sophomores.
Clark was depended to pick up the slack and did just that. He scored more than 2,200 points and hauled in more than 900 rebounds during his four-year career. O'Connell finished with a 29-7 record.
"Jason to me, is a warrior," said O'Connell head coach Joe Wootten earlier in the season. "The greatest thing about him is that he does so many things well. He's really developed into being a very good all-around player."
In the ACIT, the Knights did avenge an embarrassing loss in the Virginia Independent School state championship in order reach the ACIT final.
Two weeks after losing to Benedictine, a Richmond-based private school, by 21 points, Clark keyed a 68-63 victory with 19 points in the ACIT semifinals. Clark, a 6-foot-2 Georgetown-bound guard contributed 13 points in the fourth quarter, while sophomore point guard Kendall Marshall poured in 22 points to lead the Knights past all-tournament selection Ed Davis. The 6-foot-9 North Carolina signee tallied 24 points and 15 rebounds.
O'Connell led nearly the entire game and after retaking the lead late in the third quarter, never looked back. A driving lay-up by Marshall and a subsequent Clark basket ballooned the margin to 12.
During the previous night, though, things weren't quite so easy.
Clark hit three free throws in the game's final 40 seconds to hold off Baltimore power Mount St. Joseph's. The Gaels nearly hit a game-winner, but the O'Connell held on for the 60-58 first-round win.
Clark out-dueled future Georgetown teammate Henry Sims by scoring a game-high 28 points. Sims is a 6-foot-11 Mount St. Joseph center, had 13 points. The Knights' Marshall, who has verbally committed to play for the University of North Carolina, notched 17 points.
St. Frances' Season Mosley was selected at the tournament's Most Outstanding Player, while Clark, Roman's Maalik Wayns and Judge Memorial's Noel Hollingsworth were named to the first-team all-tournament team. Davis, Marshall, Gonzaga's Cameron Johnson, Mt. St. Joseph's Justin McCoy and Bishop Walsh's Khamran Khataian were named to the second-team.